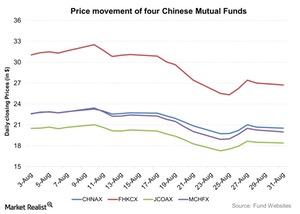 How Is the Chinese Economy Performing?
Chinese mutual funds
The aim of this series is to do a performance analysis of four Chinese mutual funds for the month of August 2015. They are:
Article continues below advertisement
China's manufacturing output
China's manufacturing activity is deteriorating at a fast pace as indicated by the Caixin China Manufacturing PMI reading for August, which was down to 47.3 from 47.8 in July. Production and purchasing activities are shrinking, mainly because of weak demand from both domestic and export clients. Manufacturing companies are requiring fewer workers and thus job cuts are also on the rise.
Weak export orders
Export orders are down due to subdued global demand. A pickup in export orders looks challenging due to a slowdown in China's major trading partners like South Korea and Taiwan. However, in order to accelerate exports, the People's Bank of China devalued its currency for three consecutive days in August.
Article continues below advertisement
Slowing gross domestic product
China's gross domestic product (or GDP) has slowed down from 7.7% in 2013 to 7.4% in 2014, the slowest in the last 24 years. The government is aiming for 7% GDP growth in 2015. This downwardly revised aim is primarily due to slowing global demand for Chinese exports and weak domestic demand.
Government measures to boost the economy
In an attempt to prop-up the slowing economy, the People's Bank of China cut its benchmark lending rate by 25 basis points to 4.6% on August 25, its fifth rate cut since November 2014. It also reduced the banks' reserve requirement ratio by 0.5% to 18.0% on August 25, effective beginning September 6, 2015.
However, it is argued that China requires further liberalization measures such as better transparency and the opening up of financial markets to foreign financial institutions. These measures would result in an inflow of foreign capital in China, which in turn may lead to the economic development of the country.
Turbulence in the Chinese stock market
Time and again, the Chinese stock market has tumbled, impacting other stock markets along with it. The uncertainty regarding China is increasing fears of a global slowdown among investors. Recently, on August 24, the stock market plunged and as a result stocks of major multinational companies that have large Chinese exposure like Apple (AAPL), Ford (F), and Nike (NKE) were down.
The next article will begin our fund performance analysis.