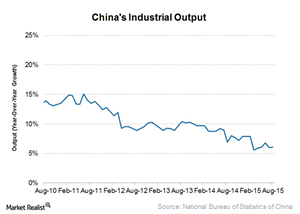 Why China's Weak Industrial Activity Is Negative for Iron Ore
Industrial production and fixed-asset investment
Industrial output measures the output of businesses involved in the industrial sector of the economy, including manufacturing, mining, and utilities. Fixed-asset investment (or FAI) is a measure of capital spending. It refers to any investment in physical assets such as real estate infrastructure and machinery that's held for more than one year.
Article continues below advertisement
FAI grows at slowest pace in 15 years
China's fixed asset investment (or FAI) increased at its slowest pace in 15 years. Excluding rural households, FAI climbed by 10.9% in the first eight months of the year. Economists were projecting a growth of 11.2%. Growth was 11.2% for the first seven months of the year.
Industrial activity is down too
China's industrial production rose by 6.1% in August, missing economists' estimates of a growth of 6.5%. While the Chinese economy is going through a rough patch overall, August's decline might also be in part due to the temporary shutdown of factory activity in and around Beijing before the September 3 military parade.
These weak economic figures make achieving the target growth of 7% difficult for the Chinese government.
Impact on companies
Industrial production and FAI are barometers of economic health. Economists are expecting further easing measures by the Chinese government to spur business activity. Until then, weak investment demand and construction activity in China will continue to weigh down iron ore prices.
Iron ore prices affect companies such as Rio Tinto (RIO), BHP Billiton (BBL) (BHP), Vale SA (VALE), and Cliffs Natural Resources (CLF). They also affect the SPDR S&P Metals and Mining ETF (XME). RIO and BHP form 27.6% of the iShares MSCI Global Metals & Mining Producers ETF (PICK).
About 98% of iron ore goes to steelmaking, and after the property sector, steelmaking accounts for the biggest portion of steel consumption. This underscores the importance of tracking Chinese property indicators. We'll discuss this in detail in the next part of our series.