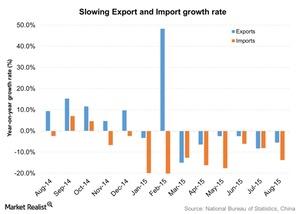 China's Foreign Trade Is Slowing Down
By Lynn Noah

Sep. 21 2015, Updated 3:43 p.m. ET
Exports and imports
China's foreign trade data for August were released on September 8. China's exports in US dollar terms fell 5.5% year-over-year (or YoY) in August, while imports fell sharply by 13.8% YoY. This figure indicates that China's foreign trade is shrinking. Meanwhile, China's trade balance came in positive at $60.2 billion.
Exports are down mainly due to weak global demand. A decline in industrial production and a rise in labor cost is making China less competitive in the global market. China's major trading partners, South Korea and Taiwan, are also seeing exports suffer because of the Chinese slowdown.
China is a major importer of crude oil, copper, and iron ore. The prices for these commodities have fallen sharply. But the imports are falling mainly because of low domestic demand due to a slowing economy.
Article continues below advertisement
Currency devaluation
On August 11, the People's Bank of China (or PBoC) made yuan, also known as renminbi, cheaper by depreciating it against the US dollar by nearly 2% for three consecutive days. This move was intended to prop up exports. However, August export data didn't show significant improvement in growth. But the results of the devaluation may be seen in the next couple of months.
It can also be argued that China's central bank may need to resort to further monetary stimuli in the form of more rate cuts to support the slowing economy as well as to lessen capital outflow from the country.
Impact on mutual funds
Tencent Holdings (TCEHY) has large export exposure and is included in the top ten holdings of the following four mutual funds: the Clough China Fund – Class A (CHNAX), the Fidelity China Region Fund – Class C (FHKCX), the John Hancock Greater China Opportunities Fund – Class A (JCOAX), and the Matthews China Fund – Investor Class (MCHFX). A slowdown in exports directly impacts its revenues and margins.
Similarly, Taiwan Semiconductor (TSM) and China Mobile (CHL) have been hit badly by sluggish export demand. They are both in the top ten holdings of JCOAX and together account for 10.7% of its portfolio.