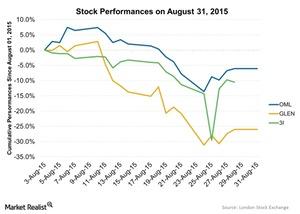 China's Contracting Manufacturing Activity Pressures UK Stocks
China continues to influence the UK market
On August 31, the stocks at the bottom of the iShares MSCI United Kingdom ETF (EWU) were Old Mutual (ODMUF), Glencore (GLNCY), and 3I Group (TGOPF). These stocks yielded -5.39%, -3.98%, and -3.80%, respectively, on August 31. Old Mutual and 3I belong to the finance sector, and Glencore belongs to the mining industry.
These stocks have delivered a positive five-day trailing return. We can see the cumulative performances of the stocks for August 2015 in the chart below.
Article continues below advertisement
Why did the UK stock market turn upside down on August 31?
The iShares MSCI United Kingdom ETF (EWU) had a 3.14% trailing five-day return as of August 31. The previous day's recorded return was 0.47%. EWU, which was upbeat for the last week due to a rise in oil prices, was taken aback by the manufacturing data reported by China. According to the August Caixin China General Manufacturing PMI report, released on September 1, manufacturing activity has contracted in the world's second-largest economy.
Despite several measures and corrective actions taken by the Chinese government to rescue the Chinese stock market from the existing turmoil, the pace of recovery has not yet picked up. This has also affected the stocks of the oil and energy industry in the UK. The UK trades with China as well with other countries that trade with China.
With the economic slowdown, a reduction in imports—especially oil—by China has become inevitable, affecting many of its trading partner countries. Consequently, trades of these countries with the UK may be affected. This cycle is expected to continue until the slowdown in the world's largest emerging market ceases and reverses the trend.
UK stocks
In the UK, a fall in stock prices was seen across all major sectors. These include GlaxoSmithKline (GSK) from the healthcare sector, falling by -2.28%; Royal Dutch Shell (RDS.B) from the energy sector, falling by -1.70%; Barclays (BCS) from the finance sector, falling by -2.24%; and Vodafone Group (VOD) from the telecommunications sector, falling by -2.58%. Although not all these companies trade directly with China, the fall in the majority of these stocks is largely due to investor concerns.
For more information on global equities, please refer to Global Equities Decline Steeply on Weakening China, Commodities.