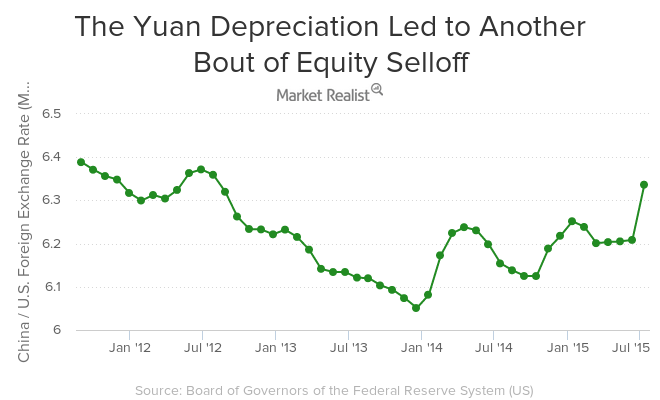 Why Did China Devalue Its Currency?
By Hugh Young

Sep. 30 2015, Updated 4:56 p.m. ET
However, investors were convinced policymakers would do whatever it took to support the so-called A-share market. What we've witnessed instead are a series of heavy-handed policy moves, each one more impotent than the last. It now seems Beijing has all but given up.
Next came the shock of a yuan devaluation. Depending on your point of view, this was either a positive sign that China remains committed to the goal of currency liberalization, or a desperate attempt to boost flagging exports.
Whatever the intention of Chinese policymakers, Asia is feeling the effects. Growth is sluggish and corporations struggle to lift earnings. Central banks across the region may be tempted to follow Beijing and weaken their own currencies in an attempt to maintain export competitiveness.
[marketrealist-chart id=633507]
Article continues below advertisement
Market Realist – Why did China devalue its currency?
China (GCH) devalued the yuan by 2% in August, its largest move in 20 years. A weak currency helps boost exports, which can in turn lift the economy. It also makes imports more expensive and less attractive to citizens, who are then more inclined to buy local products, further supporting the economy. However, this move hurts competitors' exports.
This second graph shows China's manufacturing PMI (purchase managers' index) over the last 14 months. The manufacturing sector has been consistently shrinking over the last six months. The index stood at 47.1 in August, versus 49.6 in March, which suggests that the extent of the contraction has been increasing over the last six months. This shows that Chinese demand is softening.
As we mentioned previously, many emerging markets (FEO)(VWO) have heavy ties with China for exports. Many Latin American (LAQ) economies, including Brazil (EWZ), are feeling the heat, as lower demand in China led to a slump in commodity prices.
The slowdown in China has implications for the US energy sector as well. The lack of demand in China is, in part, responsible for lower oil prices. Energy companies (IXC)(VDE) are mulling over job cuts, as low energy prices are squeezing their earnings. ConocoPhillips' (COP) management team recently said that it's cutting 10% of the company's jobs.