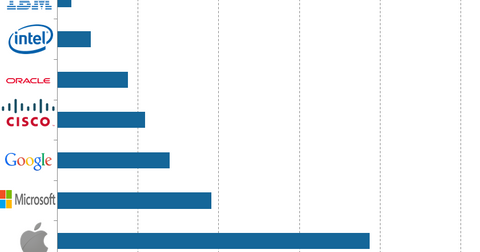 Cash-Rich Tech Sector Can Weather a Rate Hike
By Shelly Vinson

Updated
Cash-rich tech sector can weather rate hikes better than the rest of the market
Technology companies hold a staggering 40 percent of the total corporate cash reserves in the U.S., according to Forbes, so they're much less vulnerable to rising rates than debt-laden firms, such as utilities, according to Bloomberg data as of 07/13/2015. Their strong cash positions mean they have the potential to continue on with their shareholder-friendly policies, such as share buybacks, dividend increases and M&A activity.
Article continues below advertisement
In addition, while tech valuations have risen in recent months, current levels suggest that there may be additional room to run. As of last month, tech companies, as measured by the S&P 500 Information Technology Index, traded with a 6 percent price-to-earnings (P/E) discount to the S&P 500, well below the trailing 10-year average of a 12.7 percent P/E premium, according to Bloomberg data.
Market Realist:
Usually, rising rates mean an increase in borrowing costs. This can put downward pressure on the growth prospects of equities (VOO). A rise in borrowing costs tends to cause a drag on revenues and equity prices. However, tech stocks (XLK) don't have much debt on their balance sheets. The above graph shows the net debt-to-market capitalization ratio of various sectors of the S&P 500 (SPY).
Out of all the sectors, the tech sector (QQQ) boasts the least debt. As a result, rising rates are not likely to subdue the tech sector's prospects. Moreover, the cyclical momentum of the US economy is likely to be a tailwind for the cash-rich tech sector.
The  tech sector boasts robust cash reserves. According to Bloomberg, companies in the tech sector have a cash on hand–to–debt ratio of 106%. The massive cash reserves act as a sizable buffer against rising borrowing costs. High cash reserves also help enhance shareholder returns through high dividends and increased buyback activity.
According to dailyfinance.com, Apple (AAPL), Microsoft (MSFT), Cisco (CSCO), and Google (GOOG) hold $345 billion in corporate cash reserves. This effectively means that the four tech behemoths account for a whopping 23% of US companies' total corporate cash reserves. This can be seen in the above graph.
The cash-rich tech sector has a good chance of weathering rate hikes in the future. The above graph shows the cash stockpiles that mature tech companies like Apple, Google, and Microsoft have abroad.
Investors can consider investing in the sector, as the non-leveraged balance sheets and the cash-rich nature of the tech sector could provide an impetus to growth going forward.