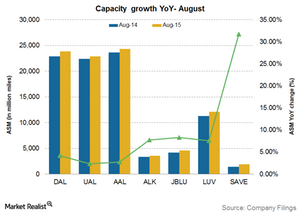 Capacity Utilization Decreases for Most US Airlines
By Ally Schmidt

Sep. 26 2015, Updated 12:05 p.m. ET
Overview
The unexpected fall in crude oil prices last year has left airlines with surplus cash, which they are using to grow their capacity or their supply of seats. Capacity is measured by ASM or available seat miles.
Article continues below advertisement
Regional carriers
For regional carriers, capacity growth exceeded demand growth by a considerable margin. The regional carriers remain relatively unaffected by foreign currency fluctuations and therefore are poised to take further advantage of the fall in crude prices.
Spirit Airlines, which posted the highest percentage of traffic growth demand (26.7%), also topped the list for highest percentage of growth in capacity. The airline grew its capacity by 31.7% year-over-year, or YoY, for the month of August.
JetBlue Airways Corporation (JBLU) also posted a strong 8.3% YoY growth in capacity and a 6.7% YoY growth in demand. Southwest Airlines (LUV), on the other hand, remained conservative, and its capacity growth of 7.6% YoY remained in line with traffic demand growth for the month.
Legacy carriers
For legacy carriers, except for American Airlines (AAL), capacity growth also exceeded demand growth in August. Delta Airlines (DAL) grew capacity by 4.2% YoY, while United Continental (UAL) grew by 2.3% YoY. Both were driven primarily by the lucrative Latin American region. Alaska Air Group (ALK) grew its capacity by 7.7% YoY for the month of August with major capacity growth in Alaska Airlines, which saw higher demand, as well. American Airlines (AAL) also saw a record capacity growth of 2.7% YoY for August. However, this remained the lowest percentage of growth in the peer group. These airlines are a part of the iShares Transportation Average ETF (IYT), which invests ~16.85% of its holdings in airline stocks.
Thus, most of the major US airlines have increased capacity in excess of their demand growth. This has naturally led to fears of excess capacity in the industry, which may trigger intense competition among the major rivals. It could result in two outcomes–airlines continue increasing capacity to retain market share, which would worsen the overcapacity situation, or airlines decrease airfares, which would result in declining margins.
Falling capacity utilization, in addition to this, would only increase investor concerns. Let's take a look at how the US airlines fared on their capacity utilization.