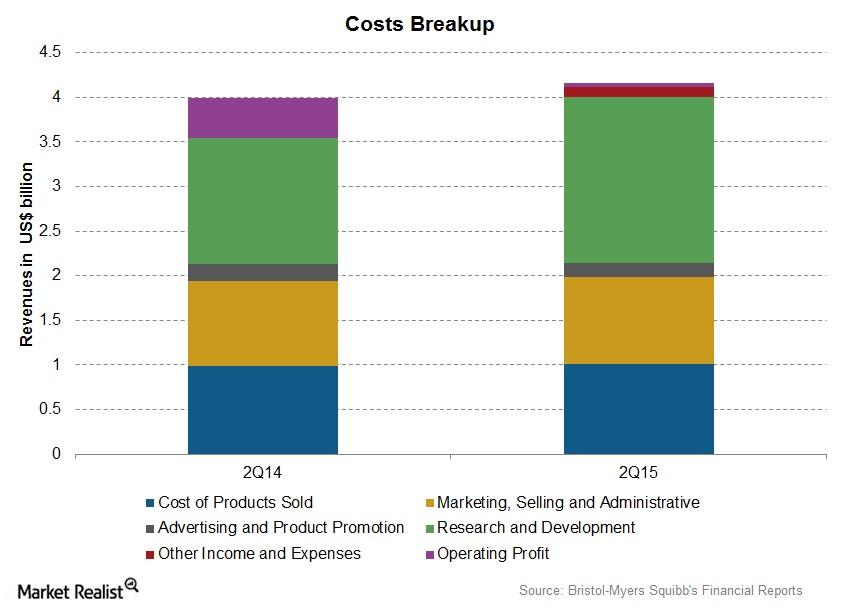 Bristol-Myers Squibb's Profitability and Financial Guidance
Bristol-Myers Squibb's profitability
Bristol-Myers Squibb (BMY) reported a rise in revenue of ~7% in 2Q15. However, net earnings were negative due to a one-time adjustment in research and development for $800 million towards the acquisition of Flexus Bioscience. The company reported a net loss of $130 million during 2Q15, as compared to a profit of $333 million for 2Q14.
The company's gross margin improved by ~0.8% to 75.6% in 2Q15 over 2Q14, driven by favorable foreign exchange. However, the gross margin was partially offset by lower Abilify sales and higher Eliquis sales. Abilify has higher profitability as compared to Eliquis. The company's operating expenses increased due to higher investment in products like Eliquis, Opdivo, and its Hepatitis C franchise.
Article continues below advertisement
Financial guidance 2015
The company revised its financial guidance for 2015. It estimates that its revenues will be between $15.5 billion and $15.9 billion, which is nearly flat as compared to 2014 revenues of $15.9 billion. These revenues have been revised based on the strong sales trend for key products like Eliquis, Orencia, Opdivo, and the Hepatitis C franchise.
The gross margin is expected to increase to 76% in 2015 as compared to 75.2% in 2014. This is because of a favorable product mix and positive foreign exchange impact. The company has estimated that advertisement and promotional expenses will increase at a high single-digit range due to increased promotion of its promising drugs like Eliquis and Opdivo.
Bristol-Myers Squibb also revised its estimates for research and development expenses to increase in the mid-single-digit range due to investments Opdivo and other late-stage pipeline drugs. The company revised its non-GAAP EPS (earnings per share) to $1.70 to $1.80.
Investors can consider the VanEck Vectors Pharmaceutical ETF (PPH), which has ~4.8% of its total assets in Bristol-Myers Squibb. The fund also holds companies like Johnson & Johnson (JNJ), Novartis AG (NVS), and Pfizer (PFE). Total returns over the last three years were more than 20%.