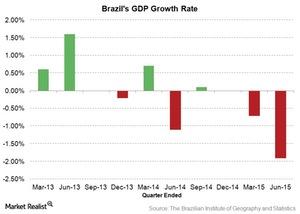 Brazil's Inflation Continues to Soar While Growth Is Stagnant
By Surbhi Jain

Updated
Brazil is in stagflation
Brazil (EWZ) is in a state popularly known as "stagflation." Currently, the economy is characterized by low growth, high unemployment levels, and a rising inflation rate. The economy is stagnant. It's at a high level of inflation.
The consecutive rises in the key rate, the SELIC rate, haven't been able to help rein in inflation in Brazil. The economy already has one of the highest key rates among the emerging market (EEM) economies. Also, the economy is contracting. Its GDP (gross domestic product) contracted by 1.90% in the second quarter this year.
Article continues below advertisement
Falling commodity prices have been eroding the commodity-rich country's export revenue. It also impacted the revenue of key businesses in the area like Petrobras (PBR)(PBRA), Vale (VALE), and Gerdau (GGB). The corporate tax rate in Brazil is at 34%. It's one of the highest among emerging nations. Please read, Why Brazil looks expensive compared to the BRIC nations, for a look at Brazil's valuation against the other BRIC (Brazil, Russia, India, China) nations.
Let's take a quick look at the economic woes that Brazil is facing.
GDP
Brazil's GDP is contracting. It was -1.90% in 2Q15 and -0.70% in 1Q15.
Article continues below advertisement
Unemployment
Article continues below advertisement
Inflation and the SELIC rate
Government budget
The Brazilian government's budget is in deficit. It's -0.60% of the country's GDP—a historic low. It averaged +1.86% from 1998 to 2014.
Brazil's economic situation definitely doesn't seem to hold much promise for the nation. However, there's light at the end of every tunnel. There are certain opportunities that could help Brazil recover from its current economic situation