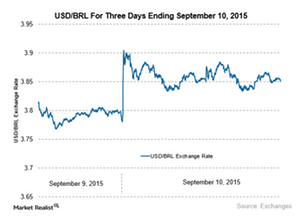 Brazilian Real Falls after Credit Rating Downgrade
By David Meyer

Updated
Capital outflows cause major fall in Brazilian real
The Brazilian real underwent massive depreciation of 1.89% against the US dollar on September 10, 2015, after credit rating agency Standard & Poor's downgraded Brazil's credit rating from "investment-grade" to "junk" status the night before. The release came one day after Brazil's central bank announced its plan to sell $3 billion of foreign exchange reserves to stop the depreciating domestic currency.
Article continues below advertisement
The Brazilian real gained 1.09% against the US dollar on September 9, 2015, following the statement. There was severe volatility in Brazil's benchmark equity markets as well as its value against the US dollar. Capital outflows were triggered following the news as foreign portfolio investors pulled out funds from Latin America's largest economy. The real plunged to levels of almost 3.90 against the US dollar, which was approaching its all-time low from 2002.
The road from investment-grade to junk
Brazil was awarded the investment-grade ranking more than seven years back in April 2008 when the country's economy was growing. However, in recent times, the Brazilian economy has been plagued by a political crisis with President Rousseff facing impeachment charges. Further, the economy has not been able to shore up investments as growth rates and manufacturing have taken a hit.
The recent yuan devaluation seemed to be the last straw towards Brazil losing its "investment-grade" rating, sending commodity prices into a plunge and hampering the country's exports. Specific funds that target only investment-grade countries as financial options are expected to move out, thus intensifying the massive dark clouds hovering around the Brazilian economy.
Impact on the market
The ETFs related to Brazil were also showing signs of negativity as of September 10, 2015, as the iShares MSCI Brazil Capped ETF (EWZ) fell by 1.45%, while the iShares Latin America 40 ETF (ILF) fell by 0.68%.
Among the Brazilian ADRs (American depository receipts), Petroleo Brasileiro Petrobras (PBR), which was at the center of the corruption scandal in Brazil, took a heavy fall of 4.72%. Mining-related companies consider the depreciation in currency to be positive, as they are involved in exporting commodities. VALE (VALE) and Gerdau (GGB) rose by 4.01% and 5.49%, respectively.