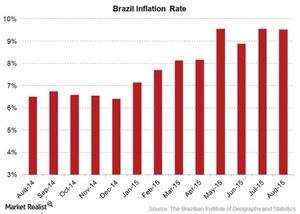 Brazil Is Caught in an Inflation Trap: What Should It Do?
By Surbhi Jain

Sep. 21 2015, Updated 1:06 p.m. ET
Brazil's economy could be in danger
In our recent analysis on Brazil, Why Brazil's Economy May Be in Real Danger, we discussed that institutional asset managers are liquidating their exposure to Brazil. The credit growth has slowed in Brazil. This affects Brazilian banks like Itaú Unibanco (ITUB), Banco do Brasil, and Banco Bradesco (BBD).
Brazil has one of the lowest growth rates among Latin American economies and other emerging markets (EEM). Upswings and downswings in growth in the Brazilian economy are directly reflected in the performance of the iShares MSCI Brazil Capped ETF (EWZ). EWZ invests in Brazilian equities—like oil giant Petroleo Brasileiro SA Petrobras (PBR) and the mining firm Vale SA (VALE).
Article continues below advertisement
Brazil is caught in an inflation trap
Brazil may be rich in commodities, but its has limited productive resources at its disposal. Basic resources—like unforested land, skilled labor, capital, and transport infrastructure—exist in extreme scarcity. A rise in demand for any of these resources immediately puts upward pressure on the associated costs.
The lack of skilled labor leads to an immediate wage spiral. A shortage of capital supply limits business investment. The disconnect between cities creates transportation roadblocks. It also increases costs. So, in Brazil's case, growth almost instantly triggers inflation. Inflation increases to levels that are detrimental to growth.
What are possible opportunities?
All said, the center stage of Brazil's economic woes remains its dependency on commodities. Given China's slowdown, its exports to China—a major trading partner for Brazil—have been affected. Falling commodity prices, as we discussed in Part 3, will continue to weigh down the economy and its progress, unless the country starts diversifying from commodity exports.
While Brazil should seek to diversify its export portfolio, it also needs to diversify its industrial base beyond the Mercosur. The Mercosur is a customs union promoting trade between the South American nations. Brazil's industrial sector has long been sheltered from foreign competition. Although this may have started as a protectionist measure for manufacturers in Brazil, it ended up making Brazil's industrial base one of the least competitive in the world.
Brazil may also need to move away from the "China trap." We've discussed this and the political situation in Brazil at length in our series Investor must-know: Why Brazil faces challenges and opportunities.