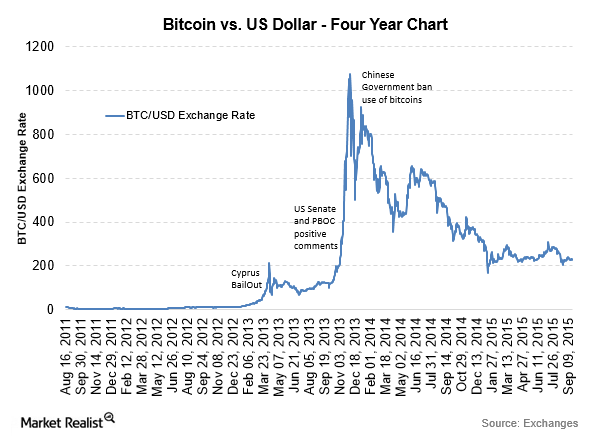 How Bitcoins Have Evolved
By David Meyer

Sep. 28 2015, Updated 2:29 p.m. ET
Introduction of the bitcoin
The bitcoin, which made its debut in 2009, is often referred to as the world's first decentralized digital currency, and it has the highest market capitalization when compared to its peers. Its invention is credited to Satoshi Nakamoto. Like other virtual currencies, bitcoins can be used as a form of payment.
Bitcoins are initially created by an activity known as mining, where a person who completes a specific online task is rewarded with bitcoins. As with any conventional currency, inflation affects bitcoins too, so a control process was set up so that the reward goes on decreasing over time for a work of similar difficulty. The major advantages of using bitcoin as a payment method includes anonymity, no taxes on sales through bitcoins, and low transaction costs.
Article continues below advertisement
Bitcoin price movements since inception
The Cyprus bailout in 2013 was a major break for bitcoins, as people tried to preserve their wealth before the bailout condition took effect by buying bitcoins. As a result, the bitcoin price nearly tripled in March 2013. After the Cyprus bailout, the bitcoin was trading nearly flat for some time, as virtual currencies like bitcoins were under the radar, as they began to be used for criminal activities.
The next major boost for the bitcoin came towards the end of 2013 with both the US Senate and the People's Bank of China giving positive remarks about the virtual currency. This drove more investments, especially from China, as the bitcoin scaled all-time high levels in November 2013. In December 2013 however, the Chinese government took action to curb the increasing popularity of the bitcoin, as the official currency, the renminbi, was under pressure. The government banned financial institutions from the use of bitcoins.
Article continues below advertisement
After the Chinese governments' measures, bitcoins failed to recover and have been on a downward trend since then. Part two of the series will look into the latest development in bitcoins with the CFTC (Commodity Futures Trading Commission) declaring bitcoins and other virtual currencies as commodities.
Market impact
Companies like WPCS International (WPCS) will be sensitive to updates on bitcoins, since they own a bitcoin trading platform. Other stocks that will be majorly impacted are pro bitcoin companies like Tesla Motors (TSLA), Zynga (ZNGA), and eBay (EBAY).
The registration process is ongoing for bitcoin ETFs with the Winklevoss Bitcoin Trust ETF (COIN) set to become the first bitcoin ETF if authorities approve it. The bitcoin ETF is expected to be similar to other commodity ETFs like the SPDR Gold Trust ETF (GLD) and the United States Oil Fund ETF (USO), which deal with gold and crude oil, respectively.