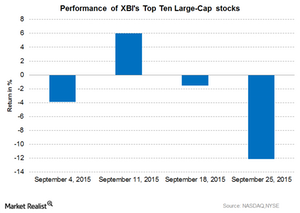 BioMarin Falls 16.81% in Week Ended September 25
By Peter Neil

Updated
Top ten large-cap stocks get hammered
Considering the market cap within the SPDR S&P Biotech ETF (XBI), the top ten large-cap stocks' average return was -12.15% for the week ended September 25, 2015. XBI underperformed the broader market representative, the SPDR S&P 500 ETF (SPY), which returned -1.27%. However, it outperformed the fund itself, which returned -15.03%. All top ten stocks fell in the range of -7% to -17%.
The above graph reflects the performance of XBI's top ten large-cap stocks on a week-over-week basis.
Article continues below advertisement
BioMarin falls 16.81%
BioMarin Pharmaceutical (BMRN) fell 16.81% and closed at $108.69, which is below the 20-day, 50-day, and 100-day moving averages. The 14-day RSI (Relative Strength Index) stood at 28, indicating the stock has moved into oversold territory.
However, BMRN recently announced the Kuvan patent challenge settlement. According to the company's September 18 press release, BioMarin "announced that it has entered into a settlement agreement with Dr. Reddy's Laboratories, Inc. (Dr. Reddy's) that resolves patent litigation in theUnited States (U.S.) related to BioMarin's Kuvan® (sapropterin dihydrochloride) 100mg oral tablets." BMRN has a weight of 1.11% in XBI's portfolio.
Incyte (INCY) fell 15.33%, resulting in the stock being traded below the 20-day, 50-day, and 100-day moving averages. The stock fell on profit booking and followed the trend. On a few occasions, there was a spike in trading volumes for the week. The average five-day trading volume stood at ~1.56 million shares per day. INCY has a weight of 0.91% in XBI's portfolio.
The other stocks that fell last week were Gilead Sciences (GILD), Amgen (AMGN), and Celgene (CELG). They fell 7.65%, 8.01%, and 11.60%, respectively.