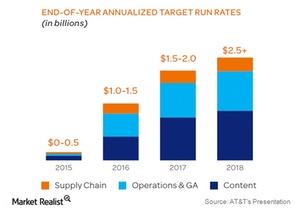 AT&T's DIRECTV Merger and New Cost Synergies
Cost synergies
In the first part of this series, we discussed the recent AT&T (T) and DIRECTV (DTV) merger. Now let's look at the parent company's new operational synergies, as well as the positive impacts it should have on content costs. According to a recent press release by AT&T, the company expects "$2.5 billion or better annual run-rate cost synergies from the DIRECTV transaction by 2018." AT&T expects these synergies to originate from three areas:
supply chain
operations and general administration
content acquisition
Article continues below advertisement
As we can see in the above chart, the DIRECTV merger is expected to help bring down costs associated with all three areas from 2015 levels. The company expects cost synergies of up to ~$0.5 billion in 2015, and these synergies are expected to reach up to ~$1.5 billion in 2016 and up to ~$2 billion in 2017, on annual averages.
Content costs
With the DIRECTV merger, AT&T has the largest pay-TV subscriber base in the US. At the end of 2Q15, AT&T had ~6 million pay-TV subscribers in the US, while DIRECTV had ~20.3 million. Comcast Corporation (CMCSA), the second-largest player in the industry, had ~22.3 million customers, and Dish Network (DISH), the third-largest player, had ~13.9 million subscribers at the end of the quarter.
A larger pay-TV base should give AT&T higher bargaining power with media networks in terms of negotiations for content costs.
Other synergies
According to AT&T, new synergies in these areas include shared costs of installing video and broadband services together, as well as lower per-unit procurement costs of setup boxes for both AT&T and DIRECTV.
You may consider taking a diversified exposure to AT&T by investing in the iShares Russell 1000 ETF (IWB). AT&T made up ~1% of IWB's holdings on July 31, 2015.