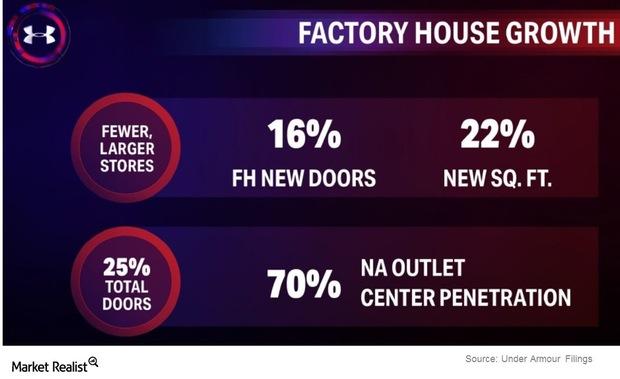 Analyzing Under Armour's 3-Tier Store Model for Retail
By Phalguni Soni

Oct. 8 2015, Updated 1:06 p.m. ET
Analyzing the growth drivers for Under Armour's direct-to-consumer or DTC channel through 2018
The DTC channel enables Under Armour (UA) and its peers make a brand statement. Due to the higher profitability impact, and also the control DTC gives over the brand, this is one of the most important channels for UA.
Article continues below advertisement
Sales projections from DTC
At its biennial investor day in September, UA released projections for the DTC channel. The DTC contribution to sales is expected to rise from 30% in 2014 to 35% in 2018. In contrast, global peers Nike (NKE) and Adidas (ADDYY)(ADS.L) derived ~23%[1. Nike Brand sales] and ~26.4% of sales from DTC channels in their last respective fiscal years.
UA's revenue from the channel is projected to grow to $2.6 billion in 2018, a CAGR[1. Compound annual growth rate] of 30%. Growth should come from both new store openings and higher e-commerce sales. UA expects to have over 1,000 stores (XRT)(RTH) globally by 2018, up from 160 in 2Q15. It's planning to grow its retail footprint via a three-tier system.
Store tiers
According to Susie McCabe, SVP of Global Retail at UA, the company's looking to categorize company stores to three tiers, depending on their size, impact, and premiumization tilt.
Tier 1 stores: Located in major cities like New York, London, and Shanghai, these flagship stores will be sized over 20,000 square feet in North America and over 12,000 square feet internationally.
Tier 2 stores: Smaller but "operationally efficient and financially self-sufficient," these UA Brand House stores will still enable the company to make a brand statement and its expand reach.
Tier 3 stores: These will consist of Factory House stores, which will cater to more value-oriented customers.
Store mix
UA anticipates ~200 stores in North America by 2018. At the end of 2Q15, UA had 160 stores in North America. 139 of these or over 80% of the total were Factory House stores. UA anticipates building out larger Factory House stores, but the mix should come down to ~75% of the total store count by 2018. UA may even close down some FH stores to optimize its store footprint.[3. According to comments by Susie McCabe, SVP of Global Retail, UA]
While Tier 1 stores would be all about the premium store experience, Factory House stores would enable UA to reach out to youth clientele as part of grassroots marketing.
UA's international store plans are expected to progress at an even faster pace. Part 10 discusses this outlook.