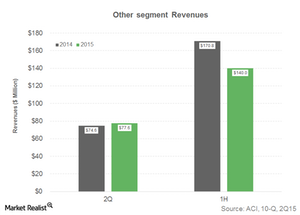 Arch Coal's Bituminous Thermal Margins Improve in 2Q15 over 1Q15
By Mike Sonnenberg

Sep. 8 2015, Updated 1:06 p.m. ET
Revenues
Arch Coal's (ACI) "other" segment, which primarily includes the Bituminous Thermal segment along with other smaller operations, generated $77.6 million in revenues in 2Q15, up from 2Q14's $74.6 million. Revenues from coal sales from the bituminous thermal segment dropped on weaker pricing. However, the impact was more than offset by higher revenues from other services, such as logistics.
The "other" segment generated $140.0 million in revenues in 1H15, down from $170.8 million in 1H14, primarily on lower shipments.
Article continues below advertisement
Overall (for all segments), Arch Coal (ACI) reported $644.5 million in revenues in 2Q15 compared to $713.8 million in 2Q14. Revenues for 1H15 stood at $1321.5 million compared to $1449.7 million in 1H14. The company expects to sell 120 million to 124 million tons of thermal coal (for all segments) and another 6.0 million to 6.8 million tons of metallurgical coal in 2015. The bituminous thermal segment accounted for 12% of ACI's total revenues in 2Q15.
Cost performance
After a jump in 1Q15, operating costs for ACI's bituminous thermal segment moderated in 2Q15. Operating cost per ton came in at $25.77 in 2Q15—higher than 2Q14's $24.51 but substantially lower than 1Q15's $31.21. Lower shipments compared to 2Q14 resulted in a slight increase in cost per ton. However, ACI's cost per ton dropped quarter-over-quarter due to cost control and increased shipments from the company's low-cost West Elk mine in Colorado.
American coal (KOL) producers, including Peabody Energy (BTU), Cloud Peak Energy (CLD), and Consol Energy (CNX), are focusing on cost-saving measures amid pricing pressure.
Margins drop
Margins for ACI's bituminous thermal coal dropped to $4.60 per ton in 2Q15 from $6.83 per ton in 2Q14 on weaker pricing and higher costs. Despite weaker pricing, the company's margins improved over 1Q15's $2.21 per ton due to cost reduction.
The segment reported 1H15 margins of $3.51 per ton compared to $4.12 per ton in 2013.