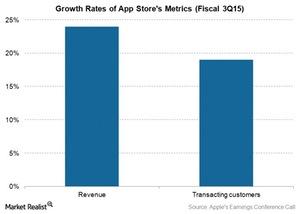 How is Apple's App Store Performing in China?
By Ray Sheffer

Updated
Apple's App Store in China
In the previous part of this series, we learned about the recent growth in iPhone sales in China. We also learned that IDC expects a further slowdown in shipments of smartphones to China. In the same guidance to CNBC's Jim Cramer, Tim Cook, Apple's (AAPL) CEO, also talked about the recent performance of Apple's App Store in China.
Cook noted, "…we have had the best performance of the year for the App Store in China during the last 2 weeks." This is again a positive indication, considering that Apple's App Store was a key driver of the services category's revenue in fiscal 3Q15 ending June 27, 2015.
Article continues below advertisement
The revenue of the services category increased ~12.1% year-over-year (or YoY) to ~$5 billion during fiscal 3Q15. However, according to the company, Apple App Stores' revenue grew at a higher rate of ~24% YoY during the quarter. In China (FXI), its YoY growth was even higher. According to the company, Apple's App Store's revenue grew by more than 100% YoY in the region during the quarter.
In July, the performance of the App Store remained robust. According to an article in USA Today on August 6, the App Store's transactions totaled $1.7 billion during the month.
Google Play versus Apple's App Store in fiscal 3Q15
Now, we will look at the relative performance of Google (GOOG) (GOOGL) Play and Apple's App store in terms of revenue and downloads in 2Q15. According to App Annie, Google Play had 85% more downloads than those of Apple's App Store in 2Q15. Also, Google Play's downloads in 1Q15 were 70% higher than those of Apple's App Store.
App Annie also notes that the revenue of Apple's App Store was significantly greater than Google Play's revenue in 2Q15.
You can take a diversified exposure to Apple by investing in the SPDR Dow Jones Industrial Average ETF (DIA), which held ~4.6% in the company on July 31, 2015.