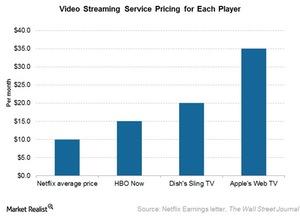 Why Apple is Not Yet Launching Its Own Streaming Service
By Shirley Pelts

Updated
Apple's streaming service
Considering the popularity of Apple (AAPL) devices and the streaming services available on those devices, it would make sense for Apple to launch its own streaming service. However, so far this year, Apple's streaming service still seems a distant possibility.
In March 2015, the Wall Street Journal reported that there was a distinct possibility that Apple could launch its streaming service by the end of this year. The same report also states that Apple is planning to offer a bundle of 25 channels in its Web TV service. However, Apple's talks with companies like Comcast (CMCSA) and 21st Century Fox (FOXA) are either going slowly or not coming to fruition. You can get a diversified exposure to Comcast by investing in the iShares Russell 1000 Growth Index ETF (IWF), which holds 1.08% of the stock.
Article continues below advertisement
The streaming service market is a crowded field, with many pay-TV operators entering over-the-top (or OTT) market. The reason being that many pay-TV operators are facing increasing subscriber losses as viewers move to online streaming services like Netflix (NFLX). Comcast is also expected to launch its OTT service, Stream, by the end of this year.
As the chart above indicates, Apple's Web TV service is expected to be priced at $30–$40. It would be an expensive streaming service as compared to Netflix, with an average price of $10, and Time Warner's (TWX) HBO Now priced at $15. Dish Network's (DISH) Sling TV is priced at $20.
Apple's streaming service could face a roadblock
With the OTT market being increasingly crowded, Apple could be facing an uphill task in getting exclusive programming rights from media companies. It includes companies like The Walt Disney Company (DIS), which has already entered into an exclusive programming deal with Netflix.
Another roadblock could be that media companies could be driving a hard bargain for Apple in terms of programming rights considering the many players in the OTT market. It could make exclusive programming rights very expensive for Apple in the long run.
It remains to be seen how Apple counters these roadblocks on its way to launching a streaming service.