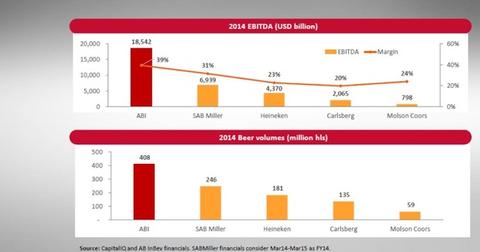 An Analysis of Anheuser-Busch InBev's Debt Levels and Leverage
By Phalguni Soni

Oct. 3 2015, Updated 6:06 a.m. ET
Financing a SABMiller transaction
Anheuser-Busch InBev (BUD) (AHBIF) (ABI.BR), or ABI, would probably look to finance its SABMiller (SBMRY) (SAB.L) transaction via a combination of debt and equity. The company had cash levels of $6.8 billion as of its last quarter, which ended June 30, 2015.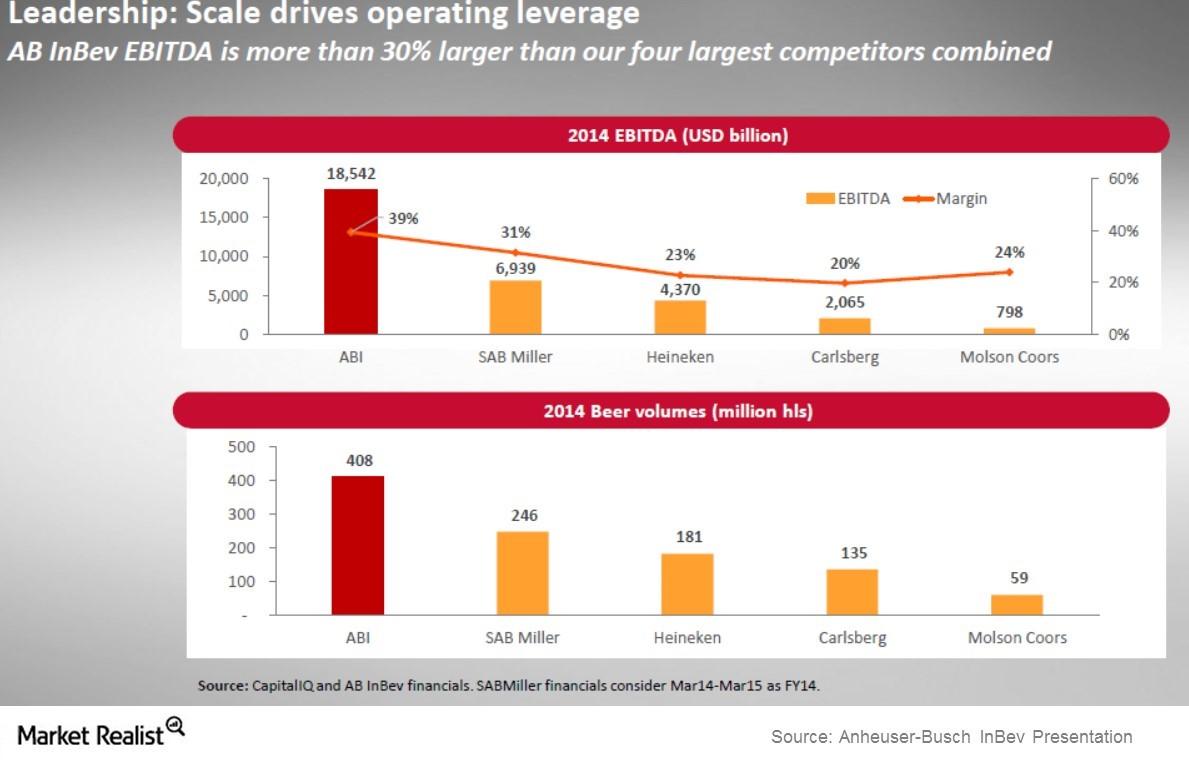 Article continues below advertisement
Debt financing deal
ABI has already been scouting around for debt financing with a banking consortium—it may be close to a deal. Reportedly, the company could raise over $50 billion via this route, which could imply that most of the financing could come through debt financing.
Leverage comparisons
As of June 30, 2015, ABI's total debt was about $51.5 billion, with a total-debt-to-total-assets ratio of ~35.9%. Few firms in the industry are as leveraged, with the exception of Diageo (DEO) (DGE.L) and Constellation Brands (STZ), which have ratios of ~38.1% and 48.5%, respectively.
In contrast, SABMiller had a total-debt-to-total-assets ratio of 27.9%. This compares to:
Debt positives
On the plus side, ABI's got a good track record of paying down debt—it paid off $28 billion of debt over the period 2006–2014. It's also got a good record of getting the most out of its acquisitions by way of both top-line and bottom-line growth and by efficiently using capital.
Since the merger with InBev in 2008, the company's net-debt-to-EBITDA ratio reduced from 4.7x at the end of 2008 to 1.9x by the end of 2012.
ABI also has a strong cash flow-generating ability. The company's EBITDA margins are some of the best in the consumer staples sector (XLP) (FXG) (VDC) and alcoholic beverages industry.
In the next part of this series, we'll discuss some potential outcomes from ABI's higher leverage.