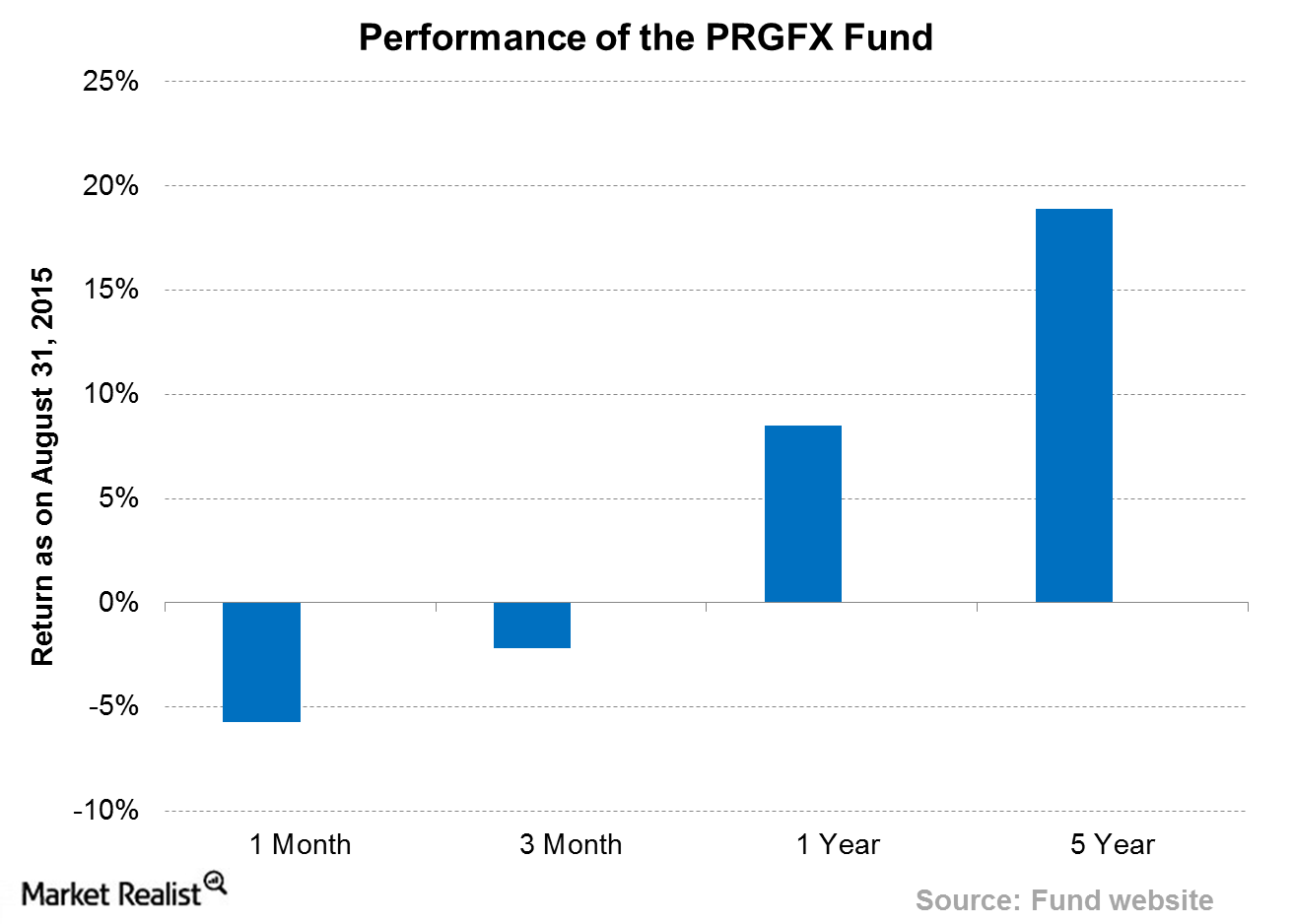 Analysis of the T. Rowe Price Growth Stock Fund (PRGFX)
By Seth Bennett

Sep. 23 2015, Updated 7:18 p.m. ET
Objective and strategy
According to information provided by the fund house, the T. Rowe Price Growth Stock Fund (PRGFX) "seeks long-term capital growth through investments in stocks." The fund invests at least 80% of its net assets in common stocks of a diversified group of growth companies.
The fund seeks investments in companies that have the ability to pay increasing dividends through strong cash flow. While the investments are primarily comprised of US domestic stocks, PRGFX may also invest in foreign stock.
Article continues below advertisement
Performance analysis
The T. Rowe Price Growth Stock Fund (PRGFX) had returns of -5.72% for the month of August 2015, while the return for the three-month period ended August 31, 2015, was -2.2%.
Returns for one year are 8.51%, while its five-year annual return for the period ended August 31, 2015, is 18.88%.
Sectoral allocation
The fund has total net assets of $47.125 billion as of July 31, 2015. About 89.7% of these assets is invested in US domestic stock, and 9.1% is invested in foreign stock. The rest of fund is invested in cash, convertibles, and preferred shares at 0.5%, 0.4%, and 0.3%, respectively.
As of August 2015, PRGFX's top three sectoral holdings are information technology, consumer discretionary, and healthcare, with portfolio weights of 28.8%, 25.5%, and 23.1%, respectively.
The top ten holdings of PRGFX make up 31.1% of the total net assets as of June 2015. The top ten holdings include Google (GOOG), Amazon.com (AMZN), Priceline Group (PCLN), and Visa (V), which make up 5.1%, 4.7%, 3.1%, and 2.9%, respectively, of the fund's net assets.