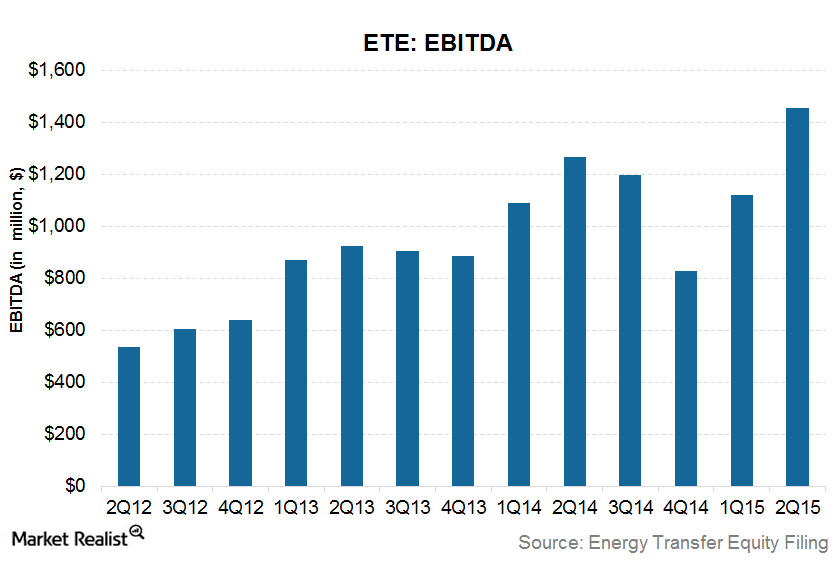 An Analysis of Energy Transfer Equity's EBITDA Growth
By Kurt Gallon

Nov. 20 2020, Updated 12:07 p.m. ET
Energy Transfer Equity's EBITDA
In the last part in this series, we analyzed Energy Transfer Equity's (ETE) YTD (year-to-date) return performance. In this part, we'll analyze the trend in Energy Transfer Equity's EBITDA (earnings before interest, tax, depreciation, and amortization). EBITDA is a broad measure of a company's operational profitability. It drives distributable cash flows at a higher level.
Energy Transfer Equity reports segment adjusted EBITDA as investments in Energy Transfer Partners (ETP) and in Lake Charles LNG. Energy Transfer Equity's adjusted EBITDA has continued to grow over the recent quarters. For the most recent quarter, its adjusted EBITDA grew by 15% YoY (year-over-year) compared to 2Q14. It was driven by the ETP-Regency merger and strong operating performance from Energy Transfer Partners' liquids transportation and storage services segment and investment in Sunoco Logistics' segments. The merger strengthened Energy Transfer Partners' midstream segment. Here's a brief description of these segments.
Article continues below advertisement
The liquids transportation segment mainly provides NGL (natural gas liquid) transportation, fractionation, and storage services.
Investment in Sunoco Logistics represents Sunoco Logistics' (SXL) crude oil, refined products, and NGL logistic business.
The midstream segment is mainly involved in natural gas treating, gathering, and processing.
For more details on the recent operating performance of these segments and Energy Transfer Partners' interstate and intrastate natural gas transportation and storage segments, read Energy Transfer Partners: 2Q Earnings Dip but Beat Estimates.
Sunoco LP GP and IDR exchange
Sunoco LP's (SUN) operating results will be consolidated for accounting purposes by Energy Transfer Equity following the completion of Sunoco LP GP (general partner) and IDR exchange. SUN is involved in retail and wholesale marketing and distribution of refined products. In a recent press release, ETP and ETE announced that the latter will acquire the GP (general partner) interest and IDRs (Incentive Distribution Rights) in Sunoco LP that are currently held by Energy Transfer Partners. In exchange, Energy Transfer Partners will repurchase 21 million of its common units owned by Energy Transfer Equity. Together, Energy Transfer Equity, Sunoco Logistics, and Energy Transfer Partners account for 21.45% of the Global X MLP ETF (MLPA).