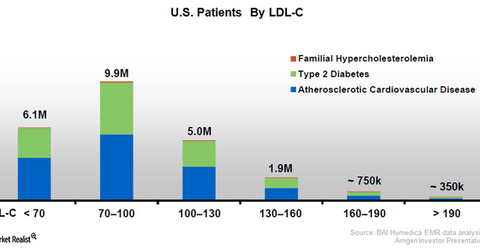 Amgen's Repatha Receives FDA Approval
By Margaret Patrick

Sep. 4 2015, Published 7:39 a.m. ET
Repatha gets FDA approval
On August 27, 2015, the FDA (U.S. Food and Drug Administration) approved Amgen's (AMGN) cholesterol-lowering drug Repatha (evolocumab). This drug will be used for patients who are unable to lower their low-density lipoprotein cholesterol (or LDL-C) with existing drug therapies.
The above graph shows Repatha's target patients in the United States who suffer from familial hypercholesterolemia (or HeFH), type 2 diabetes, and atherosclerotic cardiovascular disease.
Article continues below advertisement
Global market potential
Of the 320 million dyslipidemia patients in the United States, Europe, and Japan, only 90 million are diagnosed. Fifty million patients belong to the high-risk category, while 25 million patients in the developed world can be treated with Repatha. American Family Physician states, "Dyslipidemia, defined as elevated total or low-density lipoprotein ([or]LDL) cholesterol levels, or low levels of high-density lipoprotein ([or]HDL) cholesterol, is an important risk factor for coronary heart disease ([or]CHD) and stroke."
In the United States, the FDA approved Repatha for patients suffering with HeFH or other diseases where doctors have not been able to lower LDL cholesterol with statins such as Pfizer's (PFE) Lipitor, Novartis's (NVS) Crestor, and Merck & Co.'s (MRK) Mevacor. According to the FDA, "Familial hypercholesterolemia (encompassing both HeFH and HoFH) is an inherited condition that causes high levels of LDL cholesterol."
PCSK9 inhibitor
Repatha is the second drug in the new PCSK9 inhibitor class of drugs to be approved by the FDA. In July 2015, Praluent (alirocumab), manufactured by Regeneron Pharmaceuticals and Sanofi-Aventis U.S., was the first approved PCSK9 drug in the United States. According to Credit Suisse, PCSK9 drugs are expected to earn about $10 billion in revenues by 2019.
With Amgen accounting for 8.53% of the iShares NASDAQ Biotechnology ETF (IBB), investors can get exposure to this new PCSK9 inhibitor class of drugs and avoid unique company risks by investing in IBB.