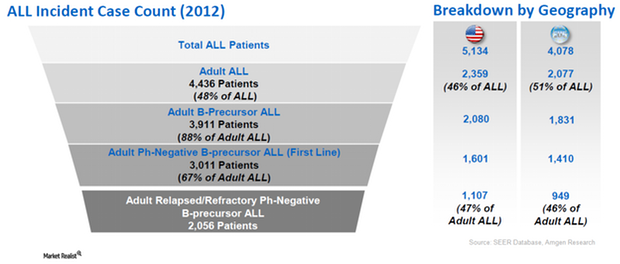 Amgen Launches Blincyto Targeting Rare Disease
By Margaret Patrick

Mar. 21 2016, Updated 3:08 p.m. ET
Rare disease
In addition to maintaining its strong drug portfolio, Amgen (AMGN) is focused on expanding in oncology-related rare diseases.
Article continues below advertisement
Blincyto
In December 2014, the Food and Drug Administration, or FDA, approved Amgen's Blincyto for adult patients with Philadelphia chromosome-negative, or Ph-, relapsed or refractory B-cell precursor acute lymphoblastic leukemia, or ALL. As the diagram shows, only 2,056 patients globally are estimated to be afflicted by this disease.
ALL is the rarest type of blood cancer or leukemia found in adults. According to WebMd, "ALL is a type of leukemia that starts from white blood cells in the bone marrow, the soft inner part of bones. It develops from cells called lymphocytes, a type of white blood cell central to the immune system, or from lymphoblasts, an immature type of lymphocyte." Blincyto is a second line of treatment for those patients whose B-cell lymphoblasts are affected by a cancer belonging to the Ph- subcategory.
Blincyto is based on a novel technology for treating cancer and has already proved its superior clinical profile. As the pool of target patients is small and the drug is highly effective in treating ALL, Blincyto has been priced at higher levels than other ALL drugs such as Bristol-Myers Squibb (BMY) and Otsuka Pharmaceutical's Sprycel, Sanofi's (SNY) Abitrexate, and Teva Pharmaceutical's (TEVA) Purinethol.
Growth strategy
Blincyto was obtained by Amgen through the acquisition of Micromet. Amgen expects to strengthen its foothold in this niche market by leveraging its oncology expertise and infrastructure obtained through Onyx's acquisition. The company plans to establish Blincyto in the market by 2016 and broaden its indication to all patients with acute lymphoblastic leukemia by 2019. By 2021, Amgen plans to develop new formulations and modes of administration for Blincyto and to eventually expand to other B-cell-related cancers.
Investors can get diversified exposure to Amgen's rare disease drug, Blincyto, while avoiding unique company risks, by investing in the iShares NASDAQ Biotechnology ETF (IBB). IBB invests 8.53% of its total holdings in Amgen.