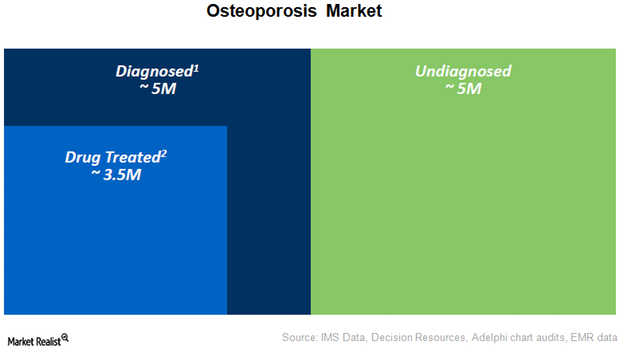 Amgen: Exploring Opportunities in the Bone Segment
By Margaret Patrick

Nov. 20 2020, Updated 3:42 p.m. ET
Osteoporosis market
There are about 65 million osteoporosis patients in the G7 markets of the US, Japan, France, the UK, Germany, Italy, and Spain. According to Boots WebMd, "Osteoporosis is a medical condition that causes bones to become weak and fragile with an increased risk of broken bones after a fall."
The above graph shows that out of the estimated 10 million osteoporosis patients in the US, only 5 million patients have been diagnosed with the disease. Out of these 5 million, about 3.5 million patients are receiving treatment with drugs. Across G7 markets, only 15 million patients receive treatment. This shows the scale of market opportunity available for Amgen's (AMGN) Prolia in the US as well as other key markets in the world.
Article continues below advertisement
Prolia
Prolia is the leading brand for treating postmenopausal osteoporosis, or PMO, in women with a high risk of bone fracture. The drug has managed to acquire 16% market share in the US.
Given Prolia's long-term efficacy and safety results, Amgen has entered into contracts with health insurance companies to expand access to the medication. This involves a faster authorization process for the drug and fewer insurance rejections. Amgen has also targeted the primary care segment, and Prolia is currently being prescribed by about 28,000 primary physicians in the US. Prolia's direct-to-consumer (DTC) marketing in the US has also helped drive its growth, as patients themselves ask for the drug from their physicians.
International markets
On April 1, 2014, Amgen purchased back the international commercialization rights of Prolia from GlaxoSmithKline (GSK). Since this agreement, Amgen has begun marketing Prolia on its own in the European Union, Switzerland, Norway, Russia, and Mexico. Most European countries have also approved Prolia for reimbursement. This approval, coupled with Amgen's increased focus on Prolia, indicates the high future earning potential of the drug.
Possible expansion in indications
In the 51st Annual Meeting of the American Society of Clinical Oncology, or ASCO, Amgen presented phase III clinical trial data evaluating the effects of Prolia in breast cancer patients receiving aromatase inhibitors, a hormonal cancer therapy. The data demonstrated that Prolia has significantly reduced bone fractures in these patients. The added indication will likely make Prolia a stronger competitor to already exiting osteoporosis drugs such as Novartis's (NVS) Reclast, Merck's (MRK) Fosamax, and Eli Lilly's (LLY) Elista. To learn more about hormonal therapy, please read "Key Therapies for Cancer Will Determine Biotechnology's Profits."
Investors can get diversified exposure to Amgen's bone drug, Prolia, yet avoid unique company risks by investing in the iShares NASDAQ Biotechnology ETF (IBB). IBB has 8.53% of its total holdings in Amgen.