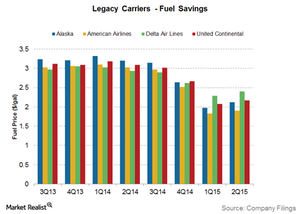 American Airlines Benefits due to Its Lack of Fuel Hedging
By Ally Schmidt

Updated
Fuel prices in decline
Fuel prices have seen a steep decline in the past few quarters. The average price of fuel per gallon for Delta Air Lines (DAL), United Airlines (UAL), American Airlines (AAL), and Alaska Air Group (ALK) has fallen from about $3.06 per gallon in the second quarter of last year to $2.14 per gallon in the second quarter of this year. These four airlines are part of the iShares Transportation Average ETF (IYT), which invests ~16.85% of its holdings in airline stocks.
Article continues below advertisement
All airlines reported significant falls in their fuel-related expenses, helping them to post better margins. American Airlines witnessed the highest decline in expenses as its fuel prices fell by 37.2% year-over-year (or YoY). Alaska Air was also a major beneficiary, its fuel prices falling by 33.7% YoY in 2Q15.
Fuel prices for United fell by 29% YoY, while Delta had the least to gain, with its fuel prices dropping only 18% YoY. This difference in gains is due to the difference in the hedging strategies used by various airline companies.
Different hedging strategies
American Airlines is a rare airline company in that it does not use complex and expensive hedging strategies. This has helped it to enjoy the maximum benefit of the recent fall in fuel prices.
Alaska Air, the second-largest beneficiary of the fuel price fall, follows a simple hedging strategy. The airline buys a form of insurance policy under which it only purchases call options that balance the upside risk of fuel prices. This strategy is relatively easy, allows the company to take advantage of slips in oil prices, and costs the company less compared to its peers.
The other two major legacy carriers, Delta and United, faced huge hedging losses due to the oil price slack. Both companies use complex and expensive hedging strategies to guard themselves from the risk of oil price spikes, which has proven counterproductive in the last year or so. Delta, for instance, bought oil futures, leading to significant payouts in claim settlements.
Good times for these companies have meant unchecked expansion, often by using debt, which leads to financial trouble when the tide turns. We'll take a look at the financial leverage of these airlines in our next article.