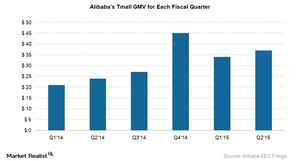 Alibaba's Expansion Strategy in Rural China
By Matilda James

Oct. 2 2015, Updated 10:06 p.m. ET
Expanding logistics networks
As we discussed previously in this series, there's a huge market potential of online shopping in the rural regions of China. E-commerce players like as Alibaba Group Holding (BABA) and JD.com (JD) are consequently working toward reaching out to more online shoppers in these untapped rural regions.
According to a Wall Street Journal report, Alibaba is planning to invest $1.5 billion in additional distribution centers in China's urban regions. The company also plans to create around 100,000 more product delivery points in rural China. The e-commerce giant plans to achieve this in the next three to five years.
Article continues below advertisement
$4.5 billion for electronics retailer
Last Month, Alibaba announced a $4.5 billion investment in Suning Commerce Group, a leading electronics retailer in China (FXI). Alibaba intends to offer offline services with this deal, which gives Alibaba a 20% stake in Suning. In return, Suning gets a 1.1% stake in Alibaba.
The deal will enable Suning, an offline retailer, to keep up with competition and challenges from other online giants, as well as to improve sales, by giving the company direct access to online shoppers on Tmall Global, a major driver of Alibaba's cross-border sales.
Tmall
As you can see in the above graph, Alibaba's Tmall segment has seen strong growth. This segment has maintained GMV (gross merchandise volume) year-over-year growth rates above 60% over the last few quarters, though it fell short to 55% in fiscal 1Q16.
Integrating online and offline services
The move signals a growing trend of integrating online and offline services in the e-commerce industry. Last year, a similar partnership occurred between Tencent Holdings (TCEHY) and Baidu (BIDU) with Dalian Wanda Group. Tencent Holdings provides internet and mobile VAS (value-added services). Baidu is a leading search provider in China with Dalian Wanda Group, the biggest commercial land developer in China.
Read the final part of this series for a look at JD.com's delivery strategies in rural regions of China.