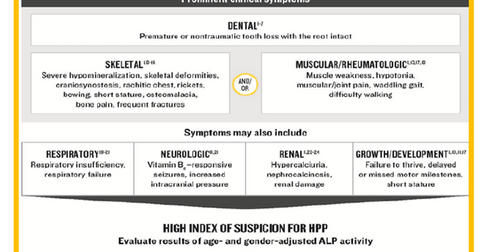 Alexion Pharmaceuticals Strengthens Rare Disease Portfolio
By Margaret Patrick

Updated
Rare disease portfolio
In September 2015, the European Commission approved Strensiq, whose generic name is asfotase alfa, for the treatment of pediatric-onset hypophosphatasia (or HPP) patients. This approval follows the positive opinion given to Strensiq by the Committee for Medicinal Products for Human Use (or CHMP) of the European Medicines Agency (or EMA) in June 2015. In July 2015, Strensiq was also approved in Japan for HPP patients.
The above diagram shows the major symptoms observed in HPP patients. Acquisition of the two drugs, Kanuma and Strensiq, from Synageva Pharmaceuticals is expected to increase Alexion Pharmaceuticals' one-drug portfolio to a three-drug portfolio.
Article continues below advertisement
Strensiq
According to Alexion Pharmaceuticals (ALXN), "HPP is an ultra-rare, genetic, and life-threatening metabolic disease characterized by impaired phosphate and calcium regulation, leading to progressive damage to multiple vital organs including destruction and deformity of bones, profound muscle weakness, seizures, impaired renal function, and respiratory failure."
Strensiq is an enzyme replacement therapy aimed at treating HPP patients. Strensiq has been granted the "Breakthrough Therapy Designation" by the Food and Drug Administration (or FDA) as well as the orphan drug designation (or ODD) by Japan's Ministry of Health, Labor and Welfare (or MHLW). Currently, FDA has approved Strensiq for priority review.
With the launch of two rare disease drugs Kanuma and Strensiq in the metabolic disorder space, Alexion Pharmaceuticals can increase utilization of its metabolic disease sales team. These two drugs are expected to create a multi-billion dollar metabolic franchise for Alexion Pharmaceuticals in addition to the company's current Soliris business.
Rare disease drugs such as Alexion's Kanuma and Strensiq, Amgen's (AMGN) Blinatumomab, Gilead Sciences' (GILD) Zydelig, and Celgene's (CELG) GED-0301 are generally priced higher than the mainstream drugs. The high pricing helps the drugs to earn sustainable profits despite lower patients using these drugs.
Investors can get diversified exposure to Alexion Pharmaceuticals' new HPP drug Strensiq, yet control company-specific risks by investing in the iShares Nasdaq Biotechnology ETF (IBB). Alexion accounts for 5.07% of IBB's total holdings.