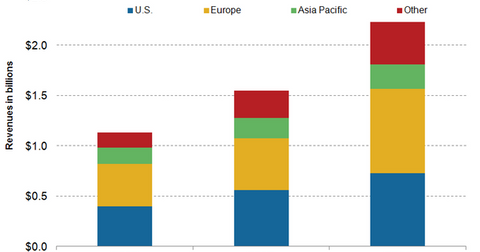 Alexion Pharmaceuticals' Key Geographic Markets
By Margaret Patrick

Sep. 25 2015, Updated 10:07 a.m. ET
Alexion's business model
Alexion Pharmaceuticals (ALXN) primarily generates its revenues through sales of its flagship product, Soliris. The company's customers include distributors, pharmacies, governments, hospitals, and hospital buying groups.
The above graph shows that Europe constitutes a major market for Alexion's Soliris, followed by the US, other markets, and finally Asia Pacific. The spurt in Alexion's total revenues in 2014 can be attributed mainly to the 34% growth in the volume of Soliris coupled with 6% growth in the pricing of the drug.
Article continues below advertisement
Key geographic markets
Europe accounts for about 37% of Alexion's total revenues. Alexion's blockbuster therapy, Soliris, was approved by the European Commission in 2007 to treat patients with paroxysmal nocturnal hemoglobinuria (or PNH). In 2011, the European Medicines Agency (or EMA) approved Soliris for treating adult and pediatric patients suffering from atypical haemolytic uremic syndrome (or aHUS). Soliris has also been granted the orphan drug designation (or ODD) by the EMA for treating ultra rare diseases PNH and aHUS.
In March 2015, Alexion Pharmaceuticals entered into an agreement with the French government, which will enable the company to receive reimbursement for Soliris. Soliris is one of the most costly drugs in the world. The drug was also approved by the National Institute for Health and Care Excellence (or NICE), the UK regulatory body. NICE has confirmed that the country's government-sponsored National Health Service (or NHS) will fund the use of Soliris for aHUS, which costs about 327,000 pounds every year.
Orphan drugs such as Alexion Pharmaceuticals' Soliris, Amgen's (AMGN) Blinatumomab, Gilead Sciences' (GILD) Zydelig, and Celgene's (CELG) GED-0301 are more costly than the mainstream drugs, as the number of target patients is limited. Thus, high prices are required to make it viable for the drug company to manufacture the orphan drugs. This can also be seen in the case of Soliris, where only 200 aHUS patients are currently present in the UK and 20 to 30 new aHUS patients are diagnosed each year.
The US and Asia Pacific markets are responsible for 32% and 10.9% of Alexion's total revenues, respectively. Soliris has further strengthened its approved labels in the US by adding supporting data based on clinical trials.
You can get exposure to Alexion Pharmaceuticals' widely marketed Soliris drug by investing in the iShares Nasdaq Biotechnology ETF (IBB). Alexion accounts for 5.07% of IBB's total holdings.