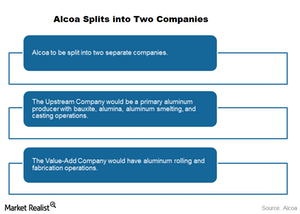 Alcoa 2.0: How Will the New Companies Look after the Split?
By Mohit Oberoi, CFA

Sep. 30 2015, Published 12:08 p.m. ET
Alcoa 2.0
Alcoa (AA) will split into two independent companies by the second half of 2016. While one company would be a pure-play aluminum producer, the other would have Alcoa's value-add business. In this part of the series, we'll explore how the two companies will look after the transaction is completed. Please note that earlier this year, BHP Billiton (BHP) spun off its non-core assets into a separate company.
Currently, Alcoa forms 0.93% of the iShares North American Natural Resources ETF (IGE).
Article continues below advertisement
Upstream business
According to Alcoa "the Upstream Company, with its strong history in the aluminum and alumina markets, will operate under the Alcoa name." It should have business units that are currently under Alcoa's Global Primary Products segment. So the "new Alcoa" will have the Bauxite, Alumina, Aluminum, Energy, and Casting businesses.
Value-add company
The value-add company, which will be named later, will have businesses currently under Alcoa's Global Rolled Products, Engineered Products and Solutions, and Transportation and Construction Solutions. Alcoa had restructured its downstream business a couple of months ago into two segments. The first segment focused on the aerospace sector while the other segment was created to cater to the construction and commercial wheels market.
Both Upstream and Value-Add Company will have independent boards that would be named prior to the closing. The two boards will have members from Alcoa's current board. The current chairman, Klaus Kleinfeld, will lead the Value-Add company. However, according to Alcoa, he will continue to serve as Upstream Company's chairman "for the critical initial phase, ensuring a smooth and effective transition."
In the next part of this series, we'll explore the Upstream Company's business prospects.