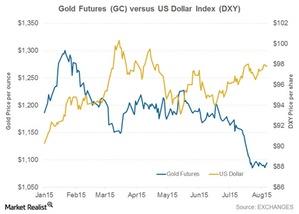 Gold Nears Three-Week Low before September 17 FOMC Meeting
By Meera Shawn

Updated
Upcoming FOMC meeting
Gold prices are currently nearing a three-week low. Gold futures for December delivery settled at $1,121.40 per ounce as of September 4, the third consecutive down day for gold. Trading volume for the futures contract on COMEX (Commodity Exchange) has also been on a downward slide, falling ~1.62% in three trading days.
As gold prices may be affected by the FOMC (Federal Open Market Committee), all eyes are on its upcoming meeting scheduled for September 17. The probability of a gold price lift-off in September, December, or beyond, will also depend on the US economic outlook.
Article continues below advertisement
Looking at the Gold Futures versus US Dollar Index chart above, we can see that the US dollar has risen 6.51% on a year-over-year basis and gold has fallen 5.65% on the same basis. The chart shows an almost inverse relationship between gold and the US Dollar Index. Gold is dollar-dominated, costing more as the dollar gains. As the US economy strengthens, we can expect the country's currency to appreciate. This will most likely have a negative impact on gold.
Other bullions and ETFs
Silver for immediate delivery fell 1.07% on September 4. It has fallen ~6.8% on a year-over-year basis. Platinum and palladium also had a down day on Friday, September 4, falling 1.75% and 0.76%, respectively.
Most of the gold ETFs also fell. The Global X Silver Miners ETF (SIL) fell 0.93%. The VanEck Vectors Gold Miners ETF (GDX) traded flat, rising a marginal 0.07%. GDX traded at $13.39 per share as of September 4. Studies show that investors are opting out of the gold-backed ETFs, as holdings were down 880 metric tons in 2013 to ~159 metric tons in 2014.
Miners' 20-day moving average indicator
The downward slide on metal prices has had a negative impact on miners. First Majestic Silver (AG), Barrick Gold (ABX), Agnico Eagle Mines (AEM), and Pan America Silver (PAAS) are all trading below their 20-day moving average prices as of September 4. The current prices for these stocks are $3, $6.41, $22.81, and $6.62, respectively.
The fact that current prices are lower than the moving average prices likely indicates undervaluation. The 20-day moving average prices of these stocks are $3.53, $7.33, $24.34, and $6.8, respectively. These four stocks together determine ~14% of the price movements in GDX.