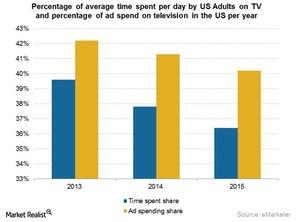 Advertising Revenues Decline, Affecting Media Companies
By Shirley Pelts

Sep. 2 2015, Published 10:52 a.m. ET
Declining advertising revenues
The advertising market is seeing a shift from TV to digital. The Wall Street Journal reported on August 6, 2015, that declining advertising revenues for different media companies was a cause of worry for investors. Viacom (VIAB) also reported its fiscal 3Q15 results on August 6. The company had advertising revenues of $1.2 billion, a decline of 2% over the same quarter last year. Domestic advertising revenues fell by 9% in fiscal 3Q15 over the same quarter last year due to lower television ratings.
It was more or less the same story across different companies in the media sector. Discovery Communications (DISCA) reported its 2Q15 results on August 5, 2015. The company had domestic advertising revenues of $447 million in 2Q15, which were more or less flat over the same quarter last year.
Article continues below advertisement
The Walt Disney Company (DIS) declared its fiscal 3Q15 results on August 4. Disney's ESPN is a part of the company's Cable Networks business that contributed ~72% revenues of revenues in fiscal 3Q15 to Disney's Media Networks segment. Disney's ESPN also had a decline in advertising revenues of 3% in fiscal 3Q15 over 3Q14.
According to a report from eMarketer, the average time spent per day by US adults watching TV is steadily declining and is expected to be 36.4% of their media time in 2015. Consequently, there has also been a slight decrease in the percentage of total ad spending on TV. In 2015, 40.2% of total ad spending is expected to be on television, while it was 41.3% in 2014.
Trend of shift from TV to digital media
The decline in time spent watching TV is due to more adults in the US moving to digital media, such as using a laptop, desktop computer, or mobile device to view content. Plus, other online platforms like Google's (GOOG) YouTube, which allows for sharing and streaming videos online, further influence this shift from TV to digital media.
You can get a diversified exposure to Google by investing in the Vanguard Growth ETF (VUG) which holds 2.1% of the stock.