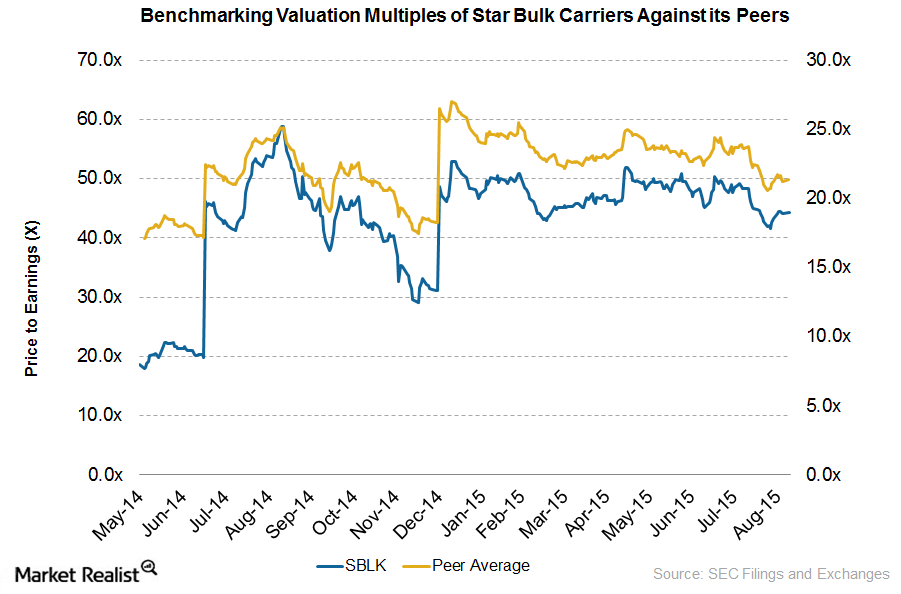 Some Activist Investors Are Betting that SBLK Has Hit Bottom
Star Bulk Carriers trades at a discount
In the previous part, we saw that most hedge funds with significant exposure to Star Bulk Carriers (SBLK) increased their stakes in 2Q15. This article will focus on valuation metrics and the possible motivation behind hedge funds increasing their position in SBLK.
Dry bulkers like Star Bulk Carriers, Navios Maritime (NM), Diana Shipping (DSX), Golden Ocean Group (GOGL), and Dryships (DRYS) are cyclical stocks due to the volatile nature of the charter market. Their revenues and earnings tend to fluctuate. The business is also seasonal with stronger demand for transporting commodities in the fall and winter. As we saw earlier in the series, industry operators have struggled due to weakened Chinese demand, especially for coal and vessel overcapacity, which has led to a meltdown in share prices of the aforementioned companies. Star Bulk has underperformed the market in recent years, losing ~31.93% on a compounded annual growth rate basis for the last three years compared to the S&P 500 SPDR ETF (SPY), which has gained 13.42%.
Article continues below advertisement
Due to the unpredictable operating results of industry operators, traditional valuation multiples such as price to earnings do not work effectively. Thus, a common yardstick for assessing whether a stock trades at a premium or discount to its peers is net asset value (or NAV) per share, where NAV is computed as assets minus liabilities plus any equity interest. The chart above captures NAV per share for dry bulk operators over the last two years. SBLK trades at a discount with a NAV per share of $6.83 compared to the peer average of $8.30 with only DRYS trading at a lower valuation. Its NAV per share is $2.15.
Assessing the timing of hedge funds with significant stakes in SBLK
As we saw earlier, Oaktree Capital, Monarch Alternative Capital, and Caspian Capital Partners increased their stakes in SBLK. Oaktree and Monarch have held positions in the company since the second half of 2013. It is worth noting that SBLK's valuation witnessed a sharp correction at that point, as it began to trade at a discount.
SBLK's strengths are its fleet size of 70 operational vessels and above average time charter rate. While its stock prices have plunged by more than 60% this year due to weak demand, the company has the potential to benefit if the market returns to the upside.
It is likely that hedge funds such as Caspian, Oaktree, and Monarch Alternative Capital are going against the crowd by pinning their hopes on the assumption that SBLK's share price has reached its floor. The iShares Transportation Average ETF (IYT) tries to replicate the performance of the Dow Jones Transportation Average Index. It has a portfolio weight of 5% for shipping companies. Another way to access the shipping industry is by investing in the Guggenheim Shipping ETF (SEA). GOGL and NM form 4.68% and 1.88% of the ETF.