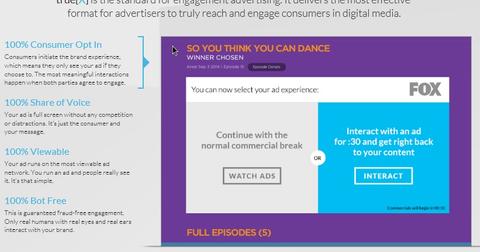 Why the Acquisition of TrueX is Important for 21st Century Fox
By Shirley Pelts

Updated
Acquisition of trueX
In the previous parts of this series, we discussed the upswing in the trend of digital advertising. In this part of the series, we will look at what the acquisition of trueX means for media company 21st Century Fox (FOXA).
On August 5, 2015, 21st Century Fox announced its fiscal fourth quarter and fiscal 2015 earnings. The company had revenues of ~$29 billion for fiscal 2015, a 9% decrease from its revenues in fiscal 2014. In its earnings call, the company noted the importance of the trueX acquisition in its long-term strategy.
The company completed the purchase of trueX Media in February 2015 for $200 million. A digital video advertising platform, trueX creates on-demand marketing campaigns and licenses it to media companies like Pandora Media (P). These ads increase consumer engagement through an interactive format.
Brands like Toyota Motor (TM) and Microsoft (MSFT) have used the trueX platform. As the above picture indicates, the trueX platform allows a consumer to engage with an ad only if the user opts for it.
For example, a person viewing content on Fox can either choose to see a full-screen ad for 30 seconds before moving on to view content without an ad break. Alternatively, a viewer can continue with normal commercial breaks in between watching content online.
Article continues below advertisement
Why trueX is an important acquisition
In fiscal 2015, 21st Century Fox's advertising revenues were $7.6 billion and constituted 26.2% of the company's total revenues of ~$29 billion.
The company stated in its earnings call that it views the trueX acquisition as an important one, as it intends to monetize its advertising technology across its different business segments. In January 2015, 21st Century Fox launched hotstar, a mobile Internet platform in India. Currently, the company is working on developing an ad platform for hotstar using trueX's advertising technology.
Another opportunity where 21st Century Fox is looking at using trueX is Hulu. Hulu is an ad-supported video service jointly owned by 21st Century Fox, NBCUniversal (CMCSA), and The Walt Disney Company (DIS). In its earnings call, 21st Century Fox stated that it has seen improved business from its nonlinear advertising business, which comes from the company's apps and Hulu.
The trueX acquisition could help the company provide higher-priced, less disruptive ads at a targeted audience across the company's multiple platforms and multiple devices.
You can get a mixed exposure to 21st Century Fox by investing in the SPDR S&P 500 ETF (SPY), which holds 0.26% of the stock.