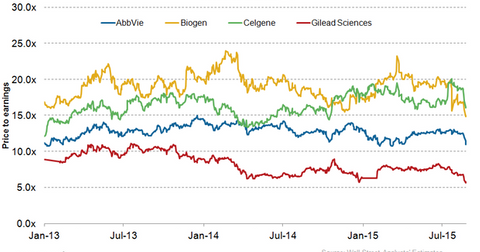 AbbVie Continues to Trade at Lower Valuations Than Its Peers
By Margaret Patrick

Updated
AbbVie valuation
AbbVie (ABBV) has traded at price-to-earnings (or PE) multiples between 10.0x to 15.0x, which has been lower than the majority of its peers in the biotechnology industry.
The above graph shows that AbbVie's PE multiples are lower than those of its peers such as Biogen (BIIB) and Celgene (CELG) but higher than Gilead Sciences (GILD).
Article continues below advertisement
Relative valuation
In addition to value derived from its existing drug portfolio, a biotechnology company's value depends on the expected commercial success of its research programs. In this way, combining discounted cash flow (or DCF) with real option valuation is more suited to valuing a biotechnology company.
However, this method depends on a large number of inputs and assumptions. The uncertainty of input values and the probability of errors in estimating inputs can lead to incorrect valuation results.
Relative valuation is not an accurate valuation methodology for biotechnology companies, but it helps us understand how investors value the company compared to its peers in the biotechnology industry.
AbbVie fundamentals
AbbVie's low PE multiples compared to its peers can be directly attributed to the impending patent expiration of its blockbuster therapy Humira.
With Humira accounting for 63% of AbbVie's total revenues, loss of the drug's composition of matter patent in the United States in December 2016 is expected to be a strong blow to AbbVie's profits. Biosimilar competition is expected to erode a majority of Humira's market.
However, AbbVie has been researching Humira for additional indications as well as geographies. Additionally, AbbVie acquired Pharmacyclics to establish its position in the $24 billion hematologic oncology market. New research programs and strategic acquisitions are expected to offset AbbVie's Humira-related losses.
Investors can limit their exposure to AbbVie's low valuations and be a part of the upside potential of its new oncology drugs by investing in the VanEck Vectors Pharmaceutical ETF (PPH). PPH holds 4.84% of its total holdings in AbbVie.