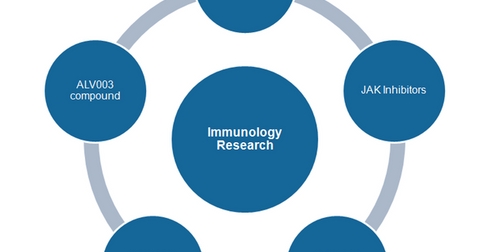 AbbVie Continues Research Targeting Autoimmune Diseases
By Margaret Patrick

Updated
Autoimmune diseases
AbbVie (ABBV) is focused on developing improved drugs for progressive autoimmune diseases such as rheumatoid arthritis and dermatology-related diseases. The company is also researching drugs for diseases with unmet demand for treatments, such as pediatric Crohn's disease, lupus uveitis, osteoarthritis, and hidradenitis suppurativa.
Article continues below advertisement
Humira label expansion
AbbVie has been actively involved in expanding Humira's approved indications in gastroenterology, dermatology, and ophthalmology caused due to abnormal behavior of the immune system.
In June 2015, the European Medicines Agency (or EMA) approved Humira for active moderate to severe hidradenitis suppurativa (or HS). This approval makes Humira the first and only approved HS therapy in Europe. AbbVie expects to get approval from the U.S. Food and Drug Administration (or FDA) by the second half of 2015.
According to AbbVie, "HS, sometimes referred to as 'acne inversa' by dermatologists, is a painful, chronic inflammatory skin disease." AbbVie estimates that the disease afflicts about 1% of the adult population in the world. In certain cases, HS can be progressive, which can eventually lead to surgery.
AbbVie has also developed a new Humira formulation that aims to reduce pain on injection and the injection volume required by the existing formulation. Already approved by the EMA, this new Humira is being reviewed by the FDA.
AbbVie is also expected to submit applications in the United States and Europe for Humira's application in treating uveitis. This will occur in the second half of 2015 in case the company receives positive clinical trial results for the indication.
Article continues below advertisement
Despite patent expiration in December 2016 and increased competition from drugs such as Johnson & Johnson (JNJ), Merck (MRK), and Mitsubishi Tanabe Pharma's Remicade and Pfizer's (PFE) Enbrel, Humira's expansion in approved indications, as well as its new formulation that causes less pain on injection, can help AbbVie limit a fall in revenues.
JAK1 inhibitors
AbbVie is involved in developing Filgotinib, a next-generation oral Janus kinase 1 (or JAK1) inhibitor drug in collaboration with Galápagos NV. Galápagos has reported positive results from its Phase 2B clinical trials testing Filgotinib for treating rheumatoid arthritis. The compound is also being explored for its application in treating patients with Crohn's disease.
ABT-494 is another JAK1 inhibitor that is currently in Phase 2B trials and is being explored for treatment of rheumatoid arthritis.
Being oral drugs, JAK1 inhibitors are expected to receive better response from the physician and patient communities. If they're successfully launched, these drugs will help offset reduced revenues due to Humira's patent expiration.
Other research programs
AbbVie is working on a proprietary technology called dual variable domain immunoglobulin (or DVD-Ig) technology, which involves targeting several diseases with a single biologic drug. This technology is used to develop compounds for treating rheumatoid arthritis and cancer.
The company also has an IL-6 nanobody-based compound, an anti-CD4 compound called Tregalizumab, an ALV003 compound, and more promising compounds targeted at rheumatoid arthritis and other autoimmune diseases.
Instead of directly investing in the company, investors can get diversified exposure to AbbVie's immunology research programs through the VanEck Vectors Pharmaceutical ETF (PPH). PPH holds 4.84% of its total holdings in AbbVie.