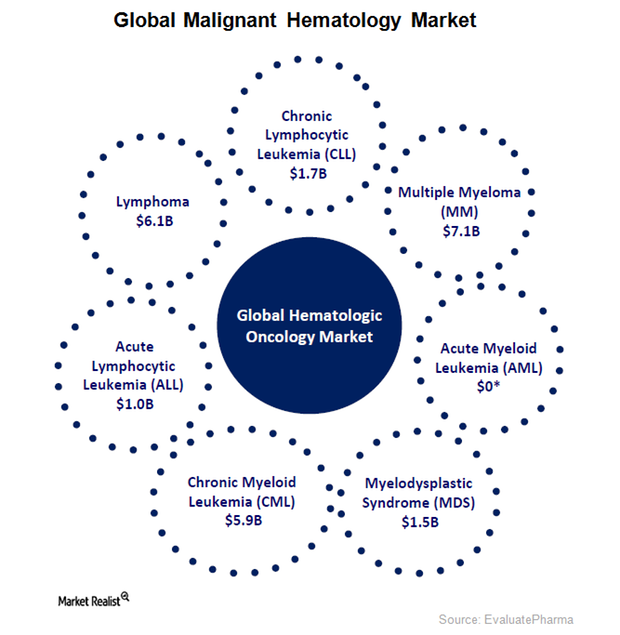 AbbVie's Acquisition of Pharmacyclics Proves Favorable
By Margaret Patrick

Sep. 28 2015, Updated 11:05 a.m. ET
Pharmacyclics acquisition
In March 2015, AbbVie (ABBV) announced that it had completed the acquisition of Pharmacyclics. The deal was valued at $261.25 per share and amounted to a total consideration of about $21 billion. This consideration represents a premium of 39% to Pharmacyclics's closing price on February 24, 2015.
The above diagram shows the global market value of the various diseases in hematological oncology, an area concerned with cancers related to blood.
Article continues below advertisement
The AbbVie-Pharmacyclics deal has positioned the combined entity as a strong leader in the $24 billion hematological oncology space. This is because in addition to strong clinical expertise in oncology discovery, Pharmacyclics also possesses organizational capabilities and a strong distribution network for its hematologic oncology drugs.
Imbruvica
Through this deal, AbbVie has acquired the orally administered drug Imbruvica. Imbruvica is in the Bruton's tyrosine kinase (or BTK) inhibitor class of drugs and is approved for multiple indications related to blood cancer.
BTK is an enzyme required for the development of B cells (or lymphocytes). Abnormal growth of lymphocytes and the transmission of malignant cells through the blood results in various blood-related cancers. Imbruvica inhibits the functioning of the BTK enzyme, thus controlling the growth of blood cancers.
AbbVie expects to earn $1 billion from US sales of Imbruvica in 2015. Imbruvica is already approved as a second line of treatment for mantle cell lymphoma (or MCL) and chronic lymphocytic leukemia (or CLL), as well as for all lines of treatment in Waldenstrom's macroglobulinemia.
Imbruvica is the only drug with three FDA (U.S. Food and Drug Administration) Breakthrough Therapy designations. The drug is commercially marketed in 40 countries and has already treated about 15,000 people.
In addition to existing indications, Imbruvica is also undergoing 58 clinical studies for potential new indications such as first-line treatment for CLL and MCL, diffuse large B-cell lymphoma, follicular lymphoma, and multiple myeloma in combination with Kyprolis. A major portion of these clinical studies have generated positive results for Imbruvica.
Imbruvica is expected to earn peak sales of $7 billion in its life cycle. Imbruvica is expected to be a strong competitor for existing drugs such as Celgene's (CELG) Revlimid, Amgen's (AMGN) Kyprolis, and Novartis's (NVS) Farydak. Imbruvica and AbbVie's oncology drugs, Venetoclax and Duvelisib, are together expected to earn more than $20 billion in peak sales.
Investors can also get exposure to AbbVie's strong hematological oncology portfolio through the VanEck Vectors Pharmaceutical ETF (PPH). PPH holds 4.84% of its total holdings in AbbVie.