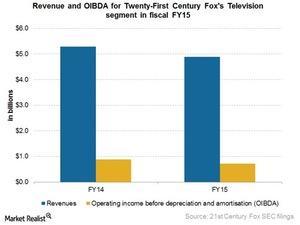 21st Century Fox: A Peek into the Television Segment
By Shirley Pelts

Sep. 9 2015, Updated 12:07 p.m. ET
Segment results for fiscal 2015
21st Century Fox (FOXA) announced its fiscal fourth quarter and full fiscal 2015 earnings on August 5, 2015. The company's Television segment owns and operates 28 broadcast television stations and broadcasts network programming in the US.
The company's Fox broadcast network competes with The Walt Disney Company's (DIS) ABC Network and CBS's (CBS) CBS Network. Disney and CBS, however, broadcast a significantly higher number of programming hours than Fox, which allows them the flexibility to designate or change prime-time slots for programming transmission. This could affect prime-time ratings for Fox network and in turn its advertising revenues.
21st Century Fox's Television segment had revenues of $4.8 billion in fiscal 2015, which was 17% of the company's total revenues of ~$29 billion. The Television segment primarily derives its revenues from advertising sales and retransmission consent revenue.
According to US laws, multichannel video programming distributors (MVPDs) such as Comcast (CMCSA) have to pay retransmission consent fees per subscriber to companies such as 21st Century Fox for carrying the broadcast signals from company-owned broadcast stations.
Article continues below advertisement
As the above graph indicates, 21st Century Fox's Television segment had revenues of $4.8 billion in fiscal 2015, a decrease of ~8% over fiscal 2014. This segment had an operating income before depreciation and amortization, or OIBDA, of $718 million, or $0.7 billion, in fiscal 2015. OIBDA decreased by ~19% in fiscal 2015. The decline in revenues was primarily due to lower advertising revenues as a result of lower prime-time program ratings for the company's Fox channel.
Outlook for fiscal 2016
21st Century Fox expects a double-digit gain in retransmission consent revenues in fiscal 2016. Advertising revenues are expected to be more or less flat in fiscal 2016. The company expects higher Television segment expenses due to substantial costs for sports telecasting rights and higher marketing expenses. These marketing costs are related to the premieres of ten new series scheduled for next season on the Fox network. The company is optimistic about increasing advertising revenues through better monetization of its programming across linear networks and nonlinear platforms such as Hulu.
You can obtain diversified exposure to 21st Century Fox by investing in the iShares S&P 500 Index (IVV), which invests 0.28% of its holdings in the company's stock.