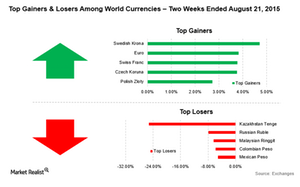 How Has Devaluation of the Yuan Impacted Global Currencies?
By David Meyer

Updated
Emerging economies' currencies falter even as US dollar index descends
The Chinese yuan devaluation has been the major driver of the massive volatility in the foreign exchange markets over the last two weeks. Asian currencies have been negatively impacted the most due to the perceived risk of an impending currency war. Economies could compete against each other to have the upper hand in elevating export volumes and price value.
Falling commodity prices amid sluggish growth expectations in the Chinese economy have had a spiraling effect on Latin American currencies as well. A devalued yuan will have negative consequences on China's imports, many of which are sourced from major South American countries. Crude prices have also been adversely impacted due to slow growth coupled with higher cost of crude imports for the Chinese economy.
Article continues below advertisement
Middle East countries are thus under pressure resulting from the developments. The US dollar index has been affected unfavorably by the yuan devaluation, which goes against the ongoing talk towards hiking the US benchmark interest rates. Developed countries thus have benefited in terms of their currencies with respect to the US dollar, the exception being commodity currencies like the Australian dollar and the Canadian dollar, which depreciated against the US dollar.
FX gainers and losers in the last two weeks
The volatility for major currency pairs between the close of August 7 and August 21 has varied across economies depending on geography, domestic capabilities, and trade dependence on China. Leading the top gainers was the Swedish krona with an increase of 4.71% on a cumulative basis. The Swedish krona, which is an integral member of the basket of currencies comprising the US dollar index, was helped further by positive comments by the government regarding increased growth estimates.
Article continues below advertisement
The euro and the Swiss franc have been riding high, owing to the recent fall in the US dollar index, which inherently constitutes the aforementioned currencies. On the other hand, exhibiting a significant tumble, the Kazakhstani tenge fell by more than a quarter of its value in view of the fact that the central bank moved towards a free-float regime from maintaining a currency peg. The fall in crude prices among other commodities caused the downfall in the Russian ruble, the Malaysian ringgit, and Latin American currencies.
Impact on the market
Among global ETFs between the close of August 7 and August 21, the iShares MSCI World ETF (URTH) fell by 6.60%. Also, the WisdomTree Bloomberg U.S. Dollar Bullish Fund (USDU), which encompasses not only developed economies but also emerging market currencies, dropped by 1.11%.
American depository receipts (or ADRs) trading across the globe between August 7 and August 21 ended on a negative note. BHP Billiton (BHP) plummeted by 10.24% during the period, while oil major Exxon Mobil (XOM) fell by 6.11%. Sony (SNE) dropped by 8.64%.