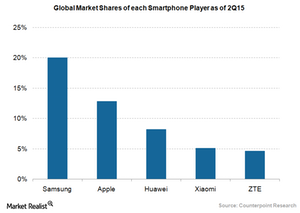 How Xiaomi Reclaimed Its Top Smartphone Position in China
By Puneet Sikka

Aug. 13 2015, Published 8:23 p.m. ET
Newer LTE models benefited Xiaomi in China
In the previous part of this series, we discussed how Apple (AAPL) lost its top smartphone position to Xiaomi and Huawei in the China smartphone market in 2Q15. Xiaomi, which temporarily lost its top position in China in 4Q14 and 1Q15, reclaimed it in 2Q15. According to a report from Counterpoint, Xiaomi's Redmi 2 and Mi Note were among the most popular phones in China last quarter. Newer LTE models also benefited Xiaomi in 2Q15.
Article continues below advertisement
China (MCHI) is the world's largest smartphone market, and it accounted for 37% of total shipments as of 2Q14, according to a report from Canalys. However, the smartphone market's growth in China has slowed down a bit since then. According to Counterpoint, China's smartphone market declined by a year-over-year rate of 2% in 2Q15.
Xiaomi has started to make rapid strides in the Indian smartphone market too
Despite the slowdown, China remains the most important market for all smartphone players. The leadership position in this market has helped Xiaomi take the fourth position in the global smartphone market. According to a report from Counterpoint and as the chart above shows, Samsung (SSNLF) and Apple lead the global smartphone market as of 2Q15.
Huawei, Xiaomi, and ZTE take the remaining spots in the list of the top five smartphone players in the world. These smartphones are based on Google's (GOOG) Android operating system.
Although Xiaomi generates the majority of its revenues from China, it has made some decent strides in the Indian (EPI) smartphone market too. In India, Xiaomi changed its marketing model to run traditional marketing campaigns instead of relying on online channels to market its products. Xiaomi has successfully marketed its products online in countries like China, but India is a different market, as the Internet penetration there is still quite low.