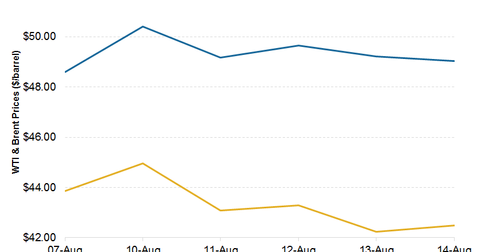 WTI Fell to 6-Year Lows Last Week, Brent Slightly Rose
By Keisha Bandz

Updated
Crude oil prices
WTI (West Texas Intermediate) crude oil prices closed 3.12% lower on a weekly basis at $42.5 per barrel in the week ended August 14. In contrast, Brent crude oil rose by 0.86% on a weekly basis, closing at $49.03 on August 14.
When prices fall, it's negative for oil producers such as Murphy Oil (MUR), Cimarex Energy (XEC), Hess (HES), and Diamondback Energy (FANG). MUR, XEC, and HES make up 2.6% of the Energy Select Sector SPDR ETF (XLE).
Lower prices don't bode well for MLPs either. MLPs such as Plains All American Pipeline Partners (PAA) transport crude oil. Lower prices could eventually translate into lower transported volumes for these MLPs, meaning reduced revenues.
Article continues below advertisement
Weekly recap
The week started on a positive note for both WTI and Brent crude oil prices. Between Friday, August 7, and Monday, August 10, WTI crude oil prices gained 2.48% to settle at $44.96 per barrel. Meanwhile, Brent gained 3.7% and closed at $50.41 per barrel. The increase was triggered by an increase in gasoline and diesel prices, which spiked due to a malfunction at a refinery owned by BP (BP). Follow us through this series to read the latest trends in gasoline and diesel prices.
However, prices fell on Tuesday. The drop was fueled by China's currency devaluation. This could make its imports of commodities such as oil, which are priced in dollars, more expensive. This raises concerns about demand from the second-largest crude oil consumer in the world. Since global oil supply has been unrelenting, this is bearish news for oil prices. OPEC's (the Organization of the Petroleum Exporting Countries) latest data shows that its combined output increased by 101,000 barrels per day to 31.5 million barrels per day, the highest in three years.
WTI fell by 4.18% to settle at $43.08 per barrel. Brent fell by ~2.44% to settle at $49.18 per barrel on Tuesday.
Article continues below advertisement
Prices modestly rebounded on Wednesday following the release of the U.S. Energy Information Administration's inventory report. The report showed a decline in crude oil inventories. However, the decline was less than expected, plus the EIA reported an increase in imports for that week. This put a lid on prices. Having said that, prices did find support from the IEA's (International Energy Agency) upward revision of its demand forecast. The IEA believes that global oil demand should increase by 1.6 million barrels per day in 2015—200,000 barrels higher than its previous month's forecast. Prices were also supported by a weaker dollar on Wednesday.
WTI crude rose 0.51% to settle at $43.3 per barrel and Brent rose 0.97% to settle at $49.66 per barrel on Wednesday. Read more about August 7's weekly crude inventory report at Crude Oil Inventories Fell Again: How Was WTI Affected?
On Thursday, WTI crude oil prices resumed their descent, falling to their lowest in six years. Macroeconomic concerns such as a stronger dollar and concerns about China's growth, key for oil demand, weighed on prices. Also, the refinery outage at the 290,000-barrels-per-day distillation unit at BP's Whiting refinery raised concerns about reduced domestic crude oil demand.
WTI fell by 2.47% and Brent crude oil fell by 0.88%, closing at $42.23 per barrel and $49.22 per barrel, respectively, on Thursday.
On Friday, August 14, WTI and Brent crude oil prices moved in opposite directions. WTI increased by ~0.64% to settle at $42.5 per barrel while Brent fell by ~0.4% to settle at $49.03 per barrel.