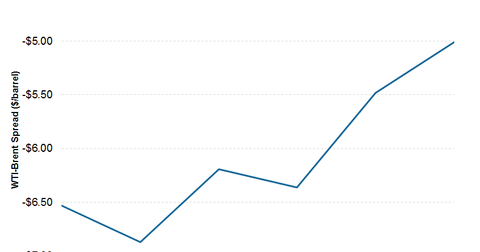 WTI–Brent Spread Converges: Who Benefits and Who Loses?
By Keisha Bandz

Updated
WTI–Brent spread
WTI (West Texas Intermediate) crude oil's discount to Brent crude oil narrowed in the week ended August 21 over the previous week. The differential as of Friday, August 21, was $5.01 per barrel. On August 14, it was $6.53 per barrel.
Both crude oil benchmarks were hit by weakness in Asia (China and Japan), but the effect on Brent—the international benchmark—seemed to have been more profound. Plus, WTI saw gains during the week, which Brent did not. These gains were driven by a weaker dollar and the expiry of WTI's September contract last week. This explains why the WTI–Brent spread narrowed. Read Part 1 of this series for a summary of last week's crude oil price movements (USO).
Article continues below advertisement
WTI–Brent spread movements
The WTI–Brent spread has converged significantly since February, when the differential had widened to ~$12 per barrel. It had narrowed down to $3 per barrel in June, but it has again widened back to near ~$5.01 per barrel recently. In January, the two benchmarks were trading near parity.
Who gains? Who loses?
A narrower WTI–Brent spread is positive for US oil producers such as Occidental Petroleum (OXY) and Anadarko Petroleum (APC). A wider spread means that US crude oil producers are getting less money for their domestic output than their international counterparts get for their output benchmarked to Brent. A narrower spread reduces the difference.
Combined, these oil-producing companies make up 6.84% of the Energy Select Sector SPDR ETF (XLE).
A wider spread could discourage American producers from pumping more crude oil, which is negative for MLP companies such as Plains All American Pipeline Partners (PAA) that transport crude oil.
Article continues below advertisement
On the other hand, US refiners such as Phillips 66 (PSX) benefit from a wider WTI–Brent spread. These companies get access to cheaper crude oil than refiners do elsewhere. Plus, these companies get international prices—benchmarked to Brent crude—for their refined products. So, a narrower spread is bad for them.
WTI and Brent forecasts
According to the EIA's "Short-Term Energy Outlook" released on August 11, Brent prices averaged $57 per barrel in July, $4 per barrel less than in June. In contrast, WTI crude oil prices averaged $51 per barrel in July, $9 per barrel less than the June average.
The EIA projects that Brent crude oil prices will average $54 per barrel in 2015 and $59 per barrel in 2016. WTI prices are projected to average $5 per barrel less than Brent in both years.
The EIA is expected to release its next STEO on September 9.