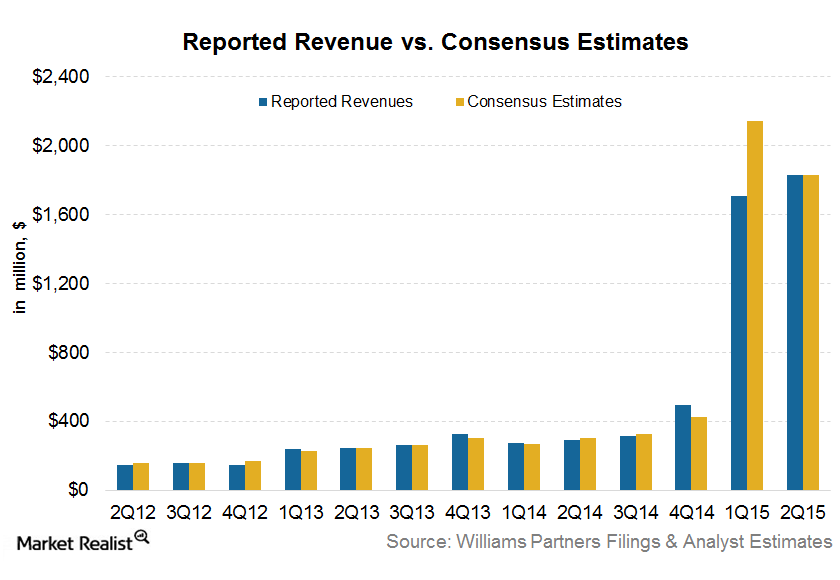 Williams Partners Meets Revenue, Misses 2Q15 EBITDA Estimates
Revenue versus consensus estimates
In the last part of this series, we analyzed Williams Partners' (WPZ) 2Q15 operating results. In this part, we'll see how Williams Partners' 2Q15 revenue and earnings fared against Wall Street estimates. Let's start with revenue.
After a 20.28% miss in 1Q15, Williams Partners met its 2Q15 revenue estimates. The 2Q15 consensus estimate was ~$1.831 billion while the actual revenue stood at $1.830 billion.
Article continues below advertisement
EBITDA versus consensus estimates
Williams Partners missed the EBITDA (earnings before interest, tax, depreciation, and amortization) estimates for 2Q15 by a huge margin. For 2Q15, consensus estimates were ~$1,013 million while the EBITDA stood at $829 million—a miss of 18.18%.
Williams Partners' 2Q15 EBITDA miss can be attributed to lower NGL (natural gas liquid) margins at its NGL & Petchem Services and West segments. It can also be attributed to higher operating expenses from the ramp up of expansion and maintenance projects. These two segments have significant exposure to commodity prices compared to Williams Partners' other segments. We'll discuss this more when we analyze Williams Partners' segment-wise operating performance later.
Stock price reaction
Williams Partners' units fell after its earnings announcement. The MLP fell ~9% since its earnings announcement on July 29, 2015. However, the revenue and EBITDA misses shouldn't be the sole reason for Williams Partners' fall. The company's flat quarterly distribution could be the other reason for its fall.
Williams Partners has returned -7.80% since the beginning of this year. Williams Partners' peers, Enbridge Energy Partners (EEP), Spectra Energy Partners (SEP), and ONEOK Partners (OKS) have returned -30.25%, -14.59%, and -21.78% YTD (year-to-date), respectively. This indicates a general weakness in the midstream energy sector. Together, they account for ~11.22% of the Alerian MLP ETF (AMLP).
In contrast, Williams Companies (WMB), William Partners' general partner, has returned 9.39% over this timeframe. Williams Companies' earnings mainly depend on distributions from its limited partner interest, general partner interest, and IDRs (incentive distribution rights) in Williams Partners.