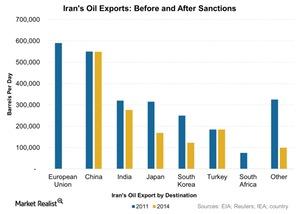 How Will the Iran Deal Affect Russia?
By Renee Blakely

Aug. 7 2015, Updated 11:07 p.m. ET
The Iran deal and the challenges ahead
Currently, Russia is the number two oil exporter in the world after Saudi Arabia. Europe and the US will ease the sanctions on Iran that began in 2011, which will allow Iran to resume its production and export of crude oil to the world. Even after the easing of sanctions, Iran will still face challenges to restore its oil export to pre-sanction level.
Relief from the easing of sanctions might not occur until the first half of 2016, and possibly even later than that if other disputes arise.
Also, Iran's fatigued oil fields and antiquated equipment pose another challenge. It is estimated that Iran will need $50 billion to $100 billion in foreign investment and several years in order to get its production back to pre-sanction levels.
Article continues below advertisement
How will the ruble respond to the Iran deal?
Although Iran's return to the oil market won't lower oil prices immediately, Russia (RSX) will have to take measures against the subsequent fall in oil prices. Russia can achieve this by slashing its costs and steadily improving efficiency. Reduced oil prices will certainly impact energy companies like LUKOIL (LUKOY), Surgutneftegas (SGTZY), Gazprom (OGZPY), and Rosneft (OJSCY). Plus, the strengthening of a currency has a negative correlation with export-driven companies. Thus, the currency trend will continue to determine the profitability of Russian companies.
Oil price is one of the key factors that will determine the ruble's strength. Historically, the currency has always followed oil prices. However, this year the ruble is displaying its strength owing to the stabilizing Russian economic conditions, stock market, foreign debt reduction, and tax payments (or demand for the ruble). These conditions are prevalent currently, but may change in the long run. It remains to be seen how the Russian ruble will behave in respect to weakening oil prices.
To get more insight on the energy sector's current moves, read our series on the Energy Sector Performance Recap for the Week Ended July 24.