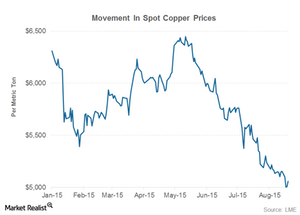 Will Copper Prices Fall Even More Amid Global Carnage?
Copper prices
Spot copper prices on the LME (London Metals Exchange) closed at $5061 per metric ton on August 21—up roughly 1% from the previous day's closing. Nevertheless, copper prices have fallen more than 20% since the beginning of 2015. You can see this trend in the chart below. The spread between three-month delivery contracts and spot copper prices also narrowed to $5 per metric ton on August 21—the lowest in the last three months.
Prices for all base metals have been weak in 2015. Spot aluminum prices have fallen ~15% since the beginning of 2015.
Article continues below advertisement
Does Doctor Copper foresee more pain?
Analysts see copper prices as a reflection of the global economy. This is due to copper's diverse end use. For that reason, copper has been dubbed "Doctor Copper."
However, copper prices might actually be dubbed "Doctor China," based on the way China dominates global copper markets.
The slowdown in China (MCHI)(FXI), which is the biggest copper consumer, has weighed heavy on copper prices. Copper demand indicators in the developed world—especially the United States—remain relatively strong.
Goldman Sachs now expects copper prices to reach $4,500 per ton, or approximately $2.04 per pound, by the end of 2016. This represents an ~11% downside from current copper prices.
Freeport-McMoRan's (FCX) earnings are sensitive to copper prices. The company estimates its EBITDA (earnings before interest, taxes, depreciation, and amortization) will fall by $500 million for every $0.10-per-pound fall in copper prices.
Earnings for other copper producers, including Turquoise Hill Resources (TRQ) and Southern Copper (SCCO), are also negatively affected by falling copper prices.
Antaike, which is one of the leading data providers of the Chinese metals industry, expects Chinese copper consumption to rise 6% this year. We'll discuss this in detail in the next part of this series.