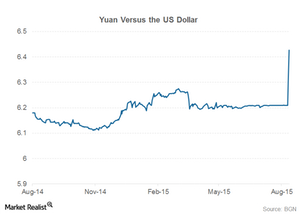 How Will China's Yuan Devaluation Affect Apple?
By Puneet Sikka

Updated
China's central bank announces devaluation of the yuan
China surprised the world on August 11, when China's central bank announced the weakening of the yuan by 1.9% against the dollar. This move from China was triggered by the steep fall of 8.3% that China's exports experienced in July this year on a year-over-year basis. A weaker yuan will make China's goods cheaper for other countries, which could boost exports for China. The chart below shows the yuan's movement versus the US dollar (UUP) over the past year.
Article continues below advertisement
Depreciation of the yuan should have a big impact on Apple
Apple (AAPL) considers China to be one of the most important markets. In the June-ending quarter, Apple's revenues from Greater China (EWT)—Hong Kong, Taiwan, and China—grew at a year-over-year rate of 112%. This market accounts for 27% of Apple's overall revenues. So a depreciating yuan would mean that Apple will now get lower revenues when converted to US dollars. To compensate for this loss, Apple might increase the prices of its products in China, which could have an even bigger detrimental effect on its sales.
Depreciation of the Chinese currency is good for Apple's competitors in the Chinese smartphone market. Most of Apple's competitors, such as Xiaomi, Lenovo (LNVGY), and Huawei, are local Chinese players that the yuan's devaluation won't affect. In fact, all these players are expanding into international markets, which means they'll benefit from a weakening Chinese currency.
Not only Apple, but also many other US companies depend heavily on China. Chip maker Qualcomm (QCOM), for example, earns about half of its revenues from China. So it will also see an impact from the yuan's devaluation.