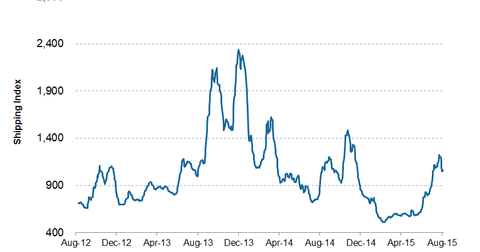 What's the Baltic Dry Index Signaling?
By Anuradha Garg

Aug. 27 2015, Published 11:49 a.m. ET
Baltic Dry Index
The BDI (Baltic Dry Index) is a leading indicator for the bulk shipping industry. It's a measure of the cost of shipping major bulk commodities on a number of shipping routes. It's calculated daily by the Baltic Exchange. It's based on current freight rates. A rising BDI is positive for the dry bulk shipping industry and vice versa.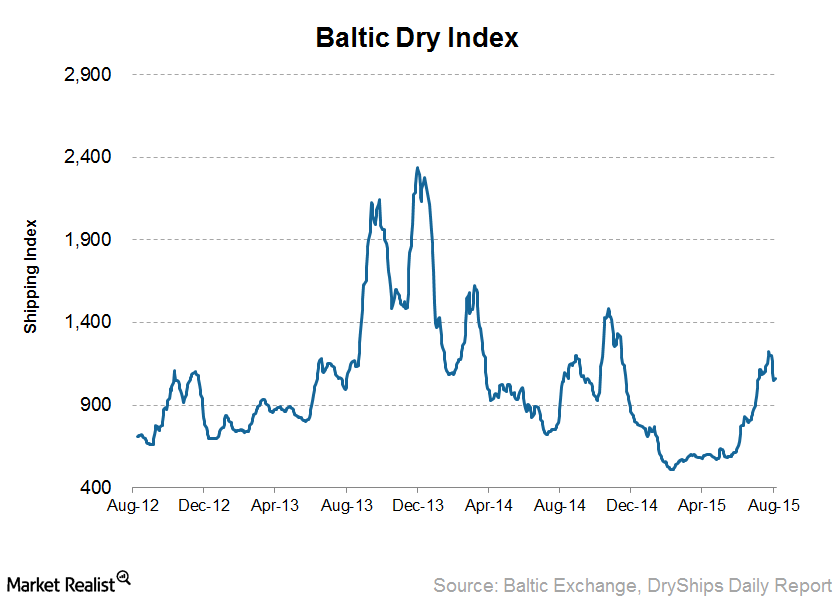 Article continues below advertisement
Index is rising
In June and July, the BDI rose by 35.80% and 42.40%, respectively. In August it resumed a falling trend. As of August 21, the BDI has fallen by 14%.
The rise in the BDI was mainly driven by the rise in the freight rates of Capesize and Panamax vessels. These are large vessels used to transport bulk materials like iron ore and coal. We'll look at the progress in iron ore and coal trade in more detail later in the series. There were rising iron ore shipments from Australia and Brazil as port inventories hit lows. This was one of the major reasons for the recent rise in Capesize rates. The South American grain season also helped the rates.
While the Capesize and Panamax indices rose by 60% each in June, the indices for Supramax vessels only rose by 9.70%.
Impact on shipping companies
Proportionately, Capesize rates are rising more. As a result, dry bulkers with high exposure to Capesize vessels are more likely to benefit. DryShips (DRYS) and Navios Maritime Holdings (NM) have a Capesize fleet of 13 vessels each. Diana Shipping (DSX), Navios Maritime Partners (NMM), and Safe Bulkers (SB) have a Capesize fleet of 12, eight, and three vessels, respectively.
The SPDR S&P Metals and Mining ETF (XME) is also affected by the BDI. It invests in industries including steel, coal, consumable fuels, gold, precious metals and minerals, aluminum, and diversified metals and mining. In contrast, the SPDR S&P 500 ETF Trust (SPY) provides exposure to the broader industry.
The Guggenheim Shipping ETF (SEA) invests in major shipping companies around the world. Navios Maritime Partners forms 2.20% of SEA's holdings.
In addition to freight rates, the purchase prices for vessels can offer significant insight into the shipping industry's dynamics. We'll discuss the price of newbuilds in the next part of this series.