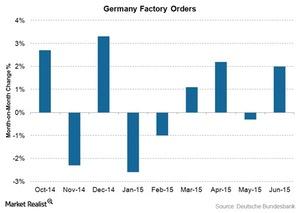 Weaker Euro Helped German Factory Orders Rebound in June
By Surbhi Jain

Updated
Germany's factory orders rebound
Factory orders in Germany rose by 2% in June, according to a Deutsche Bundesbank report dated August 6. So far, the iShares MSCI Germany ETF (EWG) has yielded 5.25% this year. It rose 0.03% at the close of trade on August 6. German factory orders are being boosted by:
an improving outlook for the Eurozone (HEDJ) as the Greek crisis subsides
the ECB's (European Central Bank) stimulus program
the depreciating euro—it's boosting export orders
Article continues below advertisement
German factory orders rose by 2% in June
Factory orders in Germany have been benefiting since the ECB's stimulus kicked off in March this year. May was an exception as the Greek crisis weighed down business sentiments due to uncertainty regarding a Grexit. In June, factory orders recorded an uptick of 2%—a good rebound from May's -0.30%. A cheaper euro is benefiting German businesses like SAP (SAP) and BASF (BASFY) in terms of export revenue and orders. The Germany-based Deutsche Bank (DB) may benefit from the higher economic activity and fund flow.
ECB stimulus is boosting the economy, but weighing down production
With major economic indicators from the Eurozone showing strengthening fundamentals, the ECB's monetary stimulus package seems to be having its desired effect on reviving the economy.
However, the same stimulus package that's intended to boost the economy is also causing the euro to depreciate. While a depreciating euro is good news for exporters like Volkswagen, SAP, and Adidas in Germany, it also makes imports expensive. A weaker currency increases the cost of imported inputs and, thereby, the production cost. Industrial firms that import a good share of their inputs tend to lose in this kind of scenario.
Meanwhile, in Brazil, unemployment figures offered little relief to the economically shaken country. We'll discuss this more in the next part.