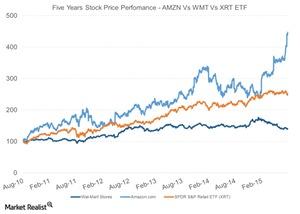 Walmart Versus Amazon: Historical Performances
By Mark Jonker

Updated
Walmart
Walmart (WMT), the largest brick and mortar retail chain, has come a long way from starting its first store in 1962. The company plans to have 11,000 stores by the end of 2015 in 27 countries. Walmart has shown a tremendous increase in its top line as well as its bottom line over the years. From $0.10 million in revenue in its first year, it has managed to increase revenue to a whopping $485.65 billion in fiscal 2015. Compounded annual growth rate (or CAGR) of sales between fiscal 2011 and fiscal 2015 has been 4.5%.
Article continues below advertisement
Amazon
Amazon (AMZN), the largest e-commerce company, has had a similar run of fortune. From the time it went online in 1994, it has expanded its presence to 185 countries. It was one of the few companies that managed to report positive growth of ~27% in net revenue during the 2008 crisis. CAGR of sales from fiscal 2010 to fiscal 2014 has been 27%.
Historical stock performance
When it comes to investor returns, Amazon has been leading hands down when compared to Walmart. Amazon has returned 446% over the last five years, while Walmart has returned only 140% to its investors over the same period. Plus, Walmart wasn't able to beat the SPDR S&P Retail ETF (XRT), but Amazon did so by a wide margin.
Based on historical performance, Amazon is a much better investment, though it is also important for investors to understand present standing and future prospects before making investment decisions.
The SPDR S&P Retail ETF (XRT) has a 1.38% exposure to Kroger (KR), a 1.32% exposure to Netflix (NFLX), a 1.15% exposure to Amazon, and a 0.94% exposure to Walmart. We will take a look at the current standing and valuation of these two companies in the next article.