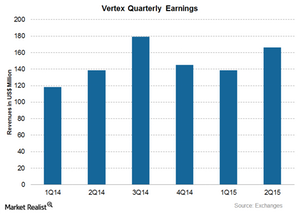 Vertex Reports 2Q15 Revenues of $166.1 Million
By Peter Neil

Aug. 11 2015, Published 3:29 p.m. ET
Vertex reports 2Q15 results
Vertex Pharmaceuticals (VRTX) posted its 2Q15 earnings on July 29, 2015. As per the company's press release, it posted revenues of $166.1 million for 2Q15 on a GAAP (generally accepted accounting principles) basis. In 2Q14, the revenues were $138.4 million. On a sequential basis, the revenue stood at $138.5 million. Vertex's 2Q15 net loss stood at $188.8 million, or -$0.78 per diluted share, when compared with the 2Q14 net loss of $159.4 million or -$0.68 per diluted share.
Vertex competitors Bristol-Myers Squibb (BMY), GlaxoSmithKline (GSK), and AstraZeneca (AZN) released their 2Q15 earnings on July 29, July 30, and July 31, respectively.
Article continues below advertisement
Highlights of 2Q15
Some of the 2Q15 earnings highlights include:
revenue of $166.1 million
revenue from Kalydeco at $154.9 million
total operating costs and expenses for 2Q15 of $337.2 million compared with $319 million for 2Q14
2Q15 net loss of $0.78 per share compared to $0.68 per share for 2Q14
U.S. Food and Drug Administration approval of Orkambi for the treatment of cystic fibrosis on July 2
Investors who do not want to invest directly in Vertex can consider investing through ETFs such as the iShares Nasdaq Biotechnology ETF (IBB), which has a 3.88% exposure to Vertex. The fund includes diversified companies in different segments of biotech and healthcare listed on Nasdaq.