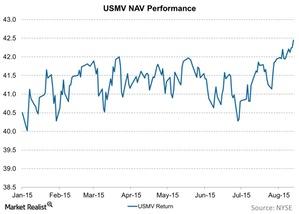 USMV: A Passive Smart Beta Fund with Active Management
By Ivan Kading

Nov. 20 2020, Updated 11:25 a.m. ET
USMV chooses stock with minimum volatility
The iShares MSCI USA Minimum Volatility ETF (USMV) tries to mimic the performance of the MSCI USA Minimum Volatility Index. As implied by the name, it includes stocks listed in the US that exhibit low volatility. Choosing stock with minimum volatility reduces the downside risk of the portfolio while still experiencing gains during rising markets. The index follows a risk constraining exercise to reduce the overall risk of the portfolio to generate a regular return.
Article continues below advertisement
A strong performer
USMV is primarily invested in consumer staples, healthcare, and information technology. AT&T (T), McDonald's (MCD), PepsiCo (PEP), Verizon (VER), and Public Storage (PSA) are the top five holdings of USMV. They account for 7.30% of USMV. Currently, they hold $5.6 billion of the assets. Since its inception on October 18, 2011, its return is 15.71%. It has given a return of 5.83% since January 2015. It's a passively managed fund. As a result, it has a low expense ratio of 0.15%.
LRGF uses style investing
The iShares FactorSelect MSCI USA ETF (LRGF) uses the style investing approach for investment. Since every smart beta fund has an active management side, LRGF's index—the MSCI USA Diversified Multi-Factor Index—selects components that have high exposure to four investment style factors—value, quality, momentum, and low size.
In short, this fund is a combination of all of the above funds that we've discussed briefly. Currently, it manages an asset with a $5 million market value spread over 137 holdings. They're primarily from the finance, healthcare, and technological sectors. It's the most recent smart beta fund launched by iShares. It was launched on April 28, 2015. As of August 17, 2015, it has given a return of 0.20% to its investors.
These were some of iShares' smart beta funds that have revolutionized low-cost investment. Next, we'll discuss Powershares' attempt at smart investing.